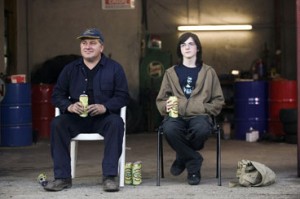 • Rogues, Rebels and Romantics: A Season of Irish Cinema is the name of the programme dedicated to Irish cinema by the 18th Busan International Film Festival (3-12 October).
Irish directors John Butler, Lance Daly, Neil Jordan, Brendan Muldowney and Jim Sheridan attended the festival and took part, as reported by Variety, in a panel discussion about the current state of Irish film industry and its possibilities of growth in the Korean, Asian and international market.
The Busan retrospective line up, provided by the Irish Film Institute and the Irish Film Board, is composed by eleven titles: Garage by Lenny Abrahamson (2007), Love Eternal by Brendan Muldowney (2013), Life's a Breeze by Lance Daly (2013), The Stag by John Butler (2013), Leo the Last by John Boorman (1970), The Crying Game by Neil Jordan (1992), In the Name of the Father by Jim Sheridan (1993), Michael Collins by Neil Jordan (1996), The General by John Boorman (1998), In America by Jim Sheridan (2002) e Once by John Carney (2006).
Source: Irish Film Institute
• The Pordenone Silent Film Festival (Giornate del Cinema Muto di Pordenone, 5 – 12 October) is also going to screen two Irish films: the short The Girl with the Mechanical Maiden directed by Andrew Legge (special mention at Irish Film Festa 2012) and Natan: The Untold Story of French Cinema's Forgotten Genius, a documentary by David Cairns and Paul Duane which unveils the forgotten story of French-Romanian producer and director Bernard Natan.
Source: Cineteca del Friuli
• Irish Film New York (4 – 6 October) just took place at the Cantor Film Center presenting a selection of recent films: Run & Jump by Steph Green (2013), Made in Belfast by Paul Kennedy (2013), Silence by Pat Collins (2012), King of Travellers by Mark O'Connor (2012), When Ali Came to Ireland by Ross Whitaker (2012) and The Hardy Bucks Movie by Mike Cockayne (2013). Film critic Ronan Doyle wrote an interesting piece about IFNY and the growing importance of contemporary Irish cinema for Indiewire.
Source: Irish Film NY