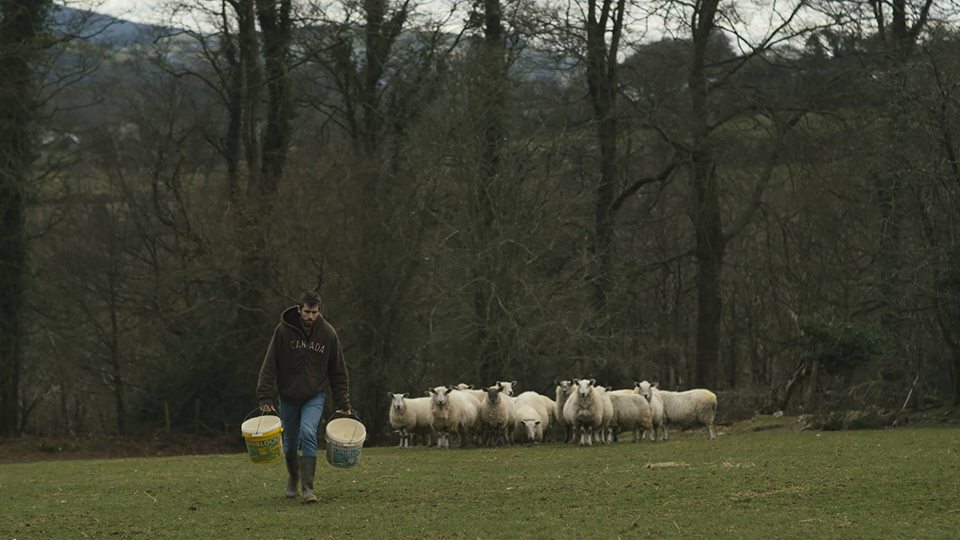 A young man struggles to find his place in life after returning to Ireland. A familiar face makes him wonder if things are about to change: Homecoming is one of the short films in competition at the 10th Irish Film Festa (March 30th – April 2nd, Rome).
We spoke to the director Sinéad O'Loughlin.
Homecoming was shot in Wicklow: did the landscape and environment influence your directing choices?
In my mind the story was always in Wicklow when I was writing as it's where I am from, it's what I know. Homecoming is my first film, my background is theatre and I write short stories. So honestly I think it's very funny that I ended up writing a film that took place entirely outside!
I was very fortunate to receive funding from Wicklow County Arts Office to make the film and it allowed me to work with Daniel Keane (director of photography and editor), and I knew Dan got the film from the way he talked about it.
We very much wanted to show how a rural setting can obviously be so beautiful and dramatic looking, but then there's a stark contrast in the harsh reality of actually working that land and the sometime mundane ritual of maintaining it on a daily basis.
We knew straight away that we were going to film in Wicklow because it was based there but also because I knew we could use my father's farm as one of the locations! The scenary in Wicklow is stunning and we were fortunate with the weather and with our timing. The first day, there happened to be this incredible mist everywhere when we arrived and Dan took full advantage of it and started filming as soon as possible, and it ended up being the opening shot.
Dialogue plays a big part in the film: what about your writing process?
I love the way Irish people talk to each other, our turn of phrase and our delivery and timing. I usually start with dialogue even if I am writing a short story.
Homecoming started as a one act play called Wake that I wrote in college in 2009. It was essentially a conversation between Mick and Aoife in the aftermath of a death. As they talk we find out that Aoife is about to go off to college and Mick is considering going to Australia.
I also love adaptation so when the opportunity came up to make the film I thought why not take the same two characters, eight years later and see what's happened? Time has passed, their lives have gone separate ways but when they meet they are still very rooted to each other by place and past. I knew I wanted it to be all about the dialogue between them so I thought about the conversation for a very long time. So much so that when I eventually sat down to write it I was able to do a full draft in one go, something I've never done before.
After that it was all about paring it down further. Scriptwriting for short film is such a great discipline for that, Dan was fairly strict about how long he thought the film should be and I'm glad of that because it forced me to work around it. You also have to leave that room for the visual elements and the performances so you can't be too precious about your writing.
The final thing is that while you write dialogue a certain way and you direct dialogue a certain way, the actors come in and bring a whole new element to it, and it's brilliant. Myself and the actors very much decided on lines on set, if something didn't feel natural to them we rephrased it slightly. It was all about being as natural as possible with the pace and the delivery. And the actors were great. Some of my favourite lines from the film now are ones I hadn't even thought that much about because of what David Greene or Johanna O'Brien brought to it.
And what about the emigration theme, which seems to be still a big issue for Irish people?
Yes, definitely and it's strange because it's more fluid than it use to be, people come back and go again, we also feel a stronger connection to those who have left than people did in the past because of the Internet but they're still gone and there's that absence. And its impact on small towns around Ireland is palpable. I myself have two siblings who are abroad; my brother is based in Australia, my sister is in the UK. My brother actually went to Australia and then came back for a year and left again a couple of weeks before we filmed Homecoming. I definitely borrowed from talking to him about the experiences of his age group; he's six years younger than me, which is a different experience again. I also borrowed a lot of his clothes for David!
I myself emigrated to Canada but I wasn't very good at it! I went in 2007 and came back in 2008 when things were starting to turn bad in Ireland. I was coming back when everyone was starting to leave! It's frustrating too that you sometimes feel a pressure to leave and you hear the stories of how well everyone is doing, how much better the quality of life is. So I wanted to explore that. With Aoife, she has left to make her own life, to escape grief but she has the burden of worrying about her mother; with Mick, I wanted to explore his frustration because he's been left behind and he knows it.