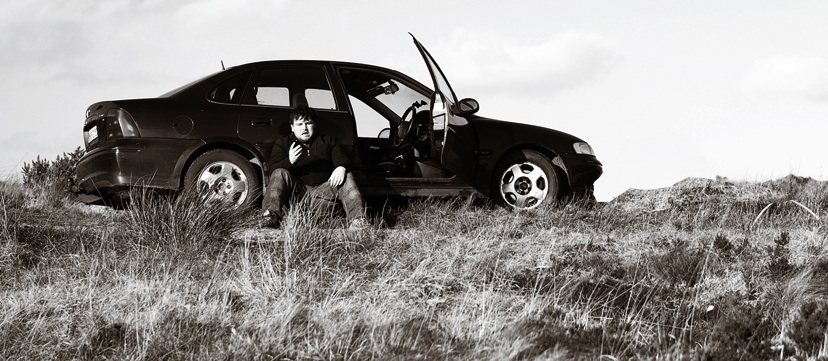 A man wakes up one morning in his car, disorientated, with no recollection of how he ended up parked in the middle of nowhere: Today is one of the short films in competition at the 10th Irish Film Festa (March 30th – April 2nd, Rome), starring John Connors and Lalor Roddy.
We spoke to the director Tristan Heanue, who also took part as an actor in two other selected short films, Gridlock and Blight.
John Connors and Lalor Roddy give powerful performances: how did you work with them on these tough roles? And, since you're an actor too, why did you choose not to appear in the film?
I had chatted with John Connors at length about the character as he was on board from before there was even a script: I pitched him the opening scene and he loved it, and when I told him I was going to direct and not act, he said he'd love to play the role. So he knew exactly what was required by the time we got to set.
With Lalor Roddy I didn't have much time, as we only met for the first time the night before the shoot, but I knew what a wonderful actor he was so I trusted that he would bring the character to life as it was meant to be. We did no rehearsals as I wanted them to be unfamiliar with each other, and for there to be a spontaneity and freshness within the scene which I sometimes think you can squeeze out of it by running it too much beforehand. They had a huge mutual respect for each other, so they really listened and connected in the scenes. It sometimes felt like I was cheating because I had to give them so little direction, but that's what you get with great actors: you can just create an environment for them and let them act.
I just never saw myself in the role, from the moment I worked on the opening scene I saw John in it. We had worked together on a short film earlier that year and we had chatted at length about mental health and our own experiences, and he was just in my head. I had been wanting to make the move to directing and I just wanted to concentrate 100% on that this time round.
Where was the film shot?
It was shot in Derryinver, which is beside Letterfrack in Connemara, Co. Galway. The farm belongs to my father and the road is just down from my house so we hadn't far to travel to our locations.
What about the contribution of cinematographer Eimear Ennis Graham?
Eimear was hugely important to this project, from the moment I decided to direct it I wanted her on board. We are friends and I always admired her work so having her on board was great. She helped me so much as I was new to directing and needed someone who I wasn't afraid to ask questions if I was unsure about a shot or anything else.
Paddy Slattery, our producer, also deserves a special mention. He drove the whole project forward from the first moment he read the script and got some amazing people on board. I was blessed to have him behind the project and his support made it feel possible when sometimes I was really doubting everything, as you do in this game!