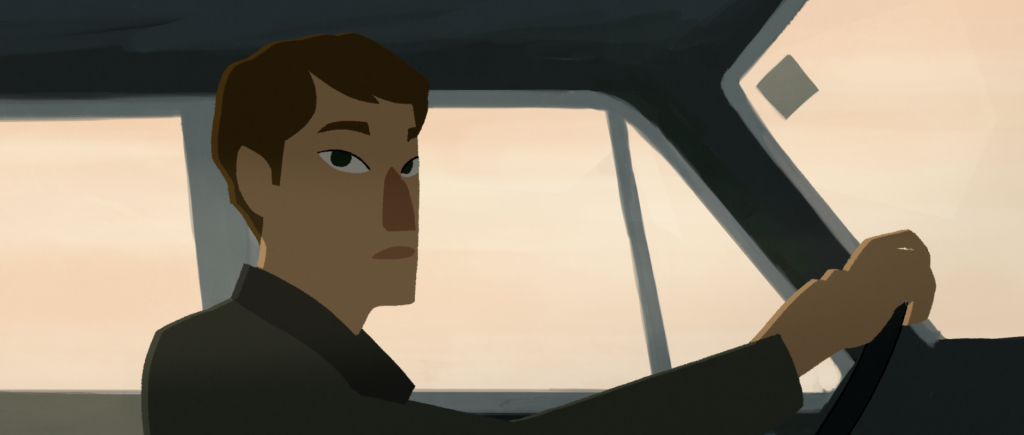 Julien Regnard is the director of Somewhere Down the Line, one of the animated short films in competition at Irish Film Festa 2015. The short is produced under the Irish Film Board's Frameworks scheme, exclusively dedicated to animation, and in collaboration with Cartoon Saloon (Nora Twomey, co-director of The Secret of Kells, is involved as executive producer).
Somewhere Down the Line shows a man's life, loves and losses through the exchanges he has with the passengers in his car.
How did you develop this story about the passing of time?
I moved places a lot during the past few years, from Montpellier to Paris to Brussels and then to Ireland, and it made me realized how difficult it was to keep contact with the people I had met, how short and fragile were the human relationships compared to the infinity of time and space. So the film is a metaphor of this idea, a man driving on the road, getting older and older and leaving the people he meets behind him along the way.
How did your work on the characters animation and their integration with the backgrounds?
For the characters animation, it was pretty simple because they are drawn in 2D, we used a software called TvPaint and then did simple compositing. The tricky part was the car and the animated background. We had to paint all the views of the car in Photoshop and then project them onto the 3D model. Same for the rolling backgrounds, we painted several views of the landscape and then projected them on a 3D map. It took us a while to figure it out but in the end it was working fine.
The music plays a big part in Somewhere Down the Line: how did you work with the composers?
The music was composed by 3epkano which is a band specialized in doing impro live on silent films so I was very interested in working with them. We met a first time and they believed in the film straight away, we had very little money and time but they only cared about the artistic value of the project. I think they did an amazing job in the end and brought so much to the atmosphere of the film.