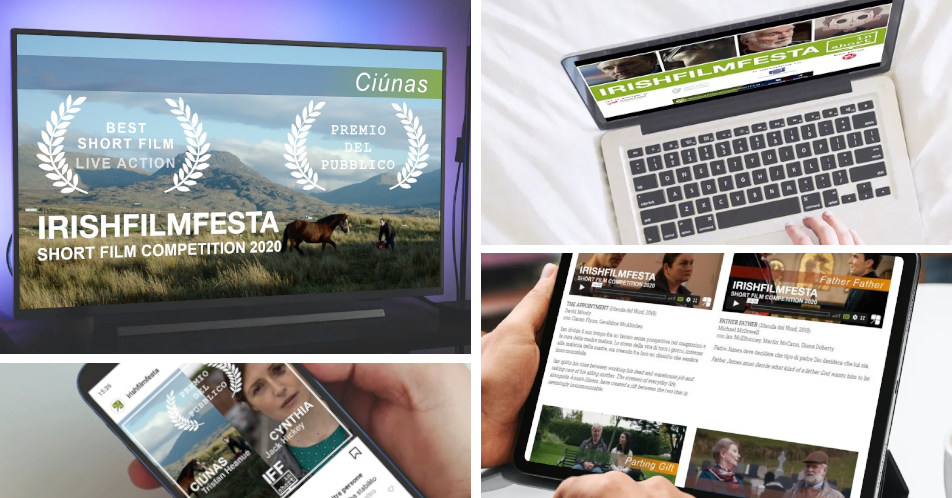 IRISH FILM FESTA in short is the special online edition of IRISH FILM FESTA, which took place from November 27th to 29th, 2020. The programme of short films attracted an online audience of 500 with over 3500 viewings.
The Audience Award was a tie: the prize went to Ciúnas by Tristan Heanue and Cynthia by Jack Hickey. Among the top-rated, also Father Father by Michael McDowell and the documentary The Vasectomy Doctor by Paul Webster.
«We are satisfied and surprised», says director Susanna Pellis. «Although the online edition was essentially designed to provide the festival with continuity, while awaiting our return to the cinema theatre, we had an audience – in terms of numbers and enthusiasm – that, honestly, we could never have imagined. This undoubtedly, thanks to the quality of the shorts on offer, but also to a formula that turned out to be much more than a simple fallback solution, one we are thinking, already, of not setting aside completely in the future».
The following comments were collected through the Audience Award form, social media, email and texts we received during the festival.
Thank you all!
• IFF in short •
Ottima rassegna anche quest'anno con tante, tante belle proposte. Grazie per la vostra passione.
Grazie agli organizzatori per non averci lasciato soli nemmeno in questo periodo e complimenti sinceri a tutti i corti in concorso: la qualità è davvero altissima.
Ogni corto era ricco di messaggi importanti, ne ho apprezzato i dettagli e soprattutto la cura con cui sono state raccontate le storie.
Thank you so much. It would have been a shame not to watch these shorts!
Sono tutti ad un livello artistico di grande qualità e originalità.
Everything so beautiful! Thanks to all of you!
Complimenti! Bravi come sempre.
Grazie per la bella iniziativa!
Great job, thank you!
Tutti bellissimi!!!
Selezione di valore!
Splendidi… Che fichi 'sti irlandesi!!!
Mi hanno colpito molto, ottimo livello!!!
Molto bello e interessante 😍
Bei cortometraggi. Atmosfere particolari. Differenti dai soliti e già visti.
Míle buíochas!
Complimenti all'organizzazione, e grazie per avermi dato la possibilità di vedere tanto ottimo materiale.
Ho conosciuto autori, attori, ho visto il vostro lavoro del quale avrei solo letto. Le formule si trovano. Lo streaming allarga il pubblico, non penalizza la presenza che è cosa bellissima e fondamentale.
Complimenti per l'iniziativa!
Grazie, non deludete mai! 😁
• SHORT FILMS •
ABE'S STORY
Straordinario: il mix di tecniche è fenomenale.
ARCHIE'S BAT
Molto divertente!
THE APPOINTMENT
Il mio preferito in assoluto è stato The Appointment: storia, inquadrature, utilizzo della musica e ritmo perfetti.
Nervosa regia che riesce a riflettere l'ansia e l'incertezza della situazione che condiziona la vita dei protagonisti.
For the live action movies I found it hard to choose between Ciúnas and The Appointment.
BREAK US
Quando siamo al culmine, capiamo la vera natura dell'altro. Una sorta di Bonnie & Clyde con finale a sorpresa, senza avere la necessaria drammaticità espressiva, salvo degli attimi eloquenti di assolo di batteria.
Uno dei miei preferiti!
CIÚNAS / SILENCE
Sguardi e silenzi bastano al regista per portarci nell'anima dei protagonisti e delle loro sofferenze.
Meraviglioso!
Bello, pulito e d'impatto.
The win was very much deserved!
Il mio preferito in assoluto! Contentissima che sia stato premiato dalla giuria 😊
CYNTHIA
Quando le parole non sono inutili, se la loro verità rivela la vera essenza dei rapporti fra gli esseri umani. Drammaticità claustrofobica nella stretta di densi primi piani, con la precisione di incisivi interpreti.
FATHER FATHER
Ho riso molto con Father Father, anche per la costruzione efficace.
Ironico flash ecclesiastico condito da un facile humour. Godibile nel suo candore.
THE GRASS CEILING
Loved The Grass Ceiling documentary!
Docufilm al femminile, con un efficace montaggio, ma sovraccarico nel parlato.
HALO
In un unico piano sequenza il regista, anche interprete, rende pathos e tempo a sensazioni interiori, cogliendo la colonna sonora dell'indole umana.
MAYA
Ricordi e prospettive disilluse in un percorso artificiale lasciano confuso il protagonista e parzialmente anche il pubblico.
Molto bello Maya. Essendo Pat Shortt più conosciuto come comico, mi ha fatto molto piacere vederlo in un ruolo diverso.
PARTING GIFT
Semplice approccio sui legami fra le persone che riescono a ricreare affetti veri.
Ho guardato Parting Gift due volte di fila, mi piace molto Stuart Graham!
Parting Gift ha il raro dono della leggerezza, un tocco autoriale e un tema fresco con una trama inaspettata ma risolta ottimamente, e il tutto in soli 8 minuti.
Parting Gift è quello che mi è piaciuto di più!
Ho preferito la sezione dell'Irlanda del Nord e devo dire che la mia lacrima facile ha ceduto su Parting Gift.
LA PETITE MORT
Raffinata messa in scena con eleganti scelte estetiche, ma non sempre quello che vediamo è così scontato… In una schizofrenia registica.
RUBY
Davvero molto bello, grazie!
Frizzante prova attoriale dei due interpreti nel racconto, con qualche parola di troppo, di un amore protratto nel tempo.
STREETS OF FURY
"Sheep" of Fury… Capolavoro!!!
THEM
Il mio preferito in questa categoria!
[Among the animated shorts,] Them had the greatest social and political depth.
THE VASECTOMY DOCTOR
Il tipo è fantastico, certo è uno che prende la vita con filosofia, rideva di cose per cui probabilmente sarei finita in terapia… Adoro.
Messaggio e confezione colpiscono nel segno, in questo documentario che ci fa scoprire il coraggio di un uomo controcorrente, coerente nell'affermare diritti, apparentemente scontati, bloccati da un mondo bigotto e ipocrita.
WAS THAT A YES?
Originale nel contenuto e nella messa in scena.
Was That a Yes? geniale.
THE WIREMEN
I loved The Wiremen for its lovely poetic atmosphere.
A CONCRETE SONG
Rappresentazione in parole e danza di una interessante performer.