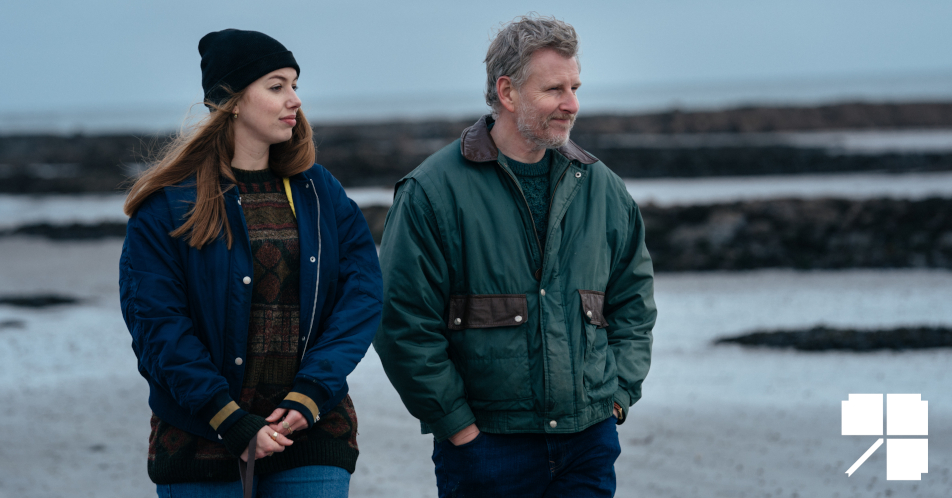 UK, Ireland, 2022
Director: Prasanna Puwanarajah; screenplay: Stacey Gregg; cinematography: Federico Cesca; production design: Tom Bowyer; editing: Sarah Brewerton, Mark Towns; music: N.C. Lawlor; casting: Amy Ball; producers: James Bierman, Nick Bower; production companies: Empire Street Productions, Riverstone Pictures. Irish location: Ballywalter, Belfast
Running time: 90'
With Seána Kerslake, Patrick Kielty, Lloyd Hutchinson, Joanne Crawford, Paul Mallon, Conor MacNeill, Julian Moore-Cook, Ryan McParland
SYNOPSIS
Eileen is a sardonic University drop-out whose dreams of a successful life in London have died. Back at home in Belfast with her mum and pregnant sister, she is trying to make ends meet by working as an unlicensed taxi driver. Shane has exiled himself in Ballywalter following the breakdown of his marriage, but now he's trying to get his life back on track by enrolling in an evening comedy course.
Eileen accepts the weekly return fare from Shane. As the two spend time together on the road between Belfast and Ballywalter, shuttling back and forth over several months, a surprising connection is made and an unlikely friendship develops, saving them both from a downward spiral.
DIRECTOR
Born in Ipswich to Sri-Lankan Tamil parents, Prasanna Puwanarajah is a former NHS doctor who is now an actor, director and writer. He has performed at the National Theatre (where he also premiered his debut play), the Royal Shakespeare Company (where he has also worked as a director), the Donmar Warehouse, Young Vic, and in the West End. On screen, he has been seen in the BBC's Doctor Foster, the award-winning Patrick Melrose, and most recently in Netflix's The Crown. Ballywalter, his directorial debut feature film, opened the Belfast Film Festival in 2022.