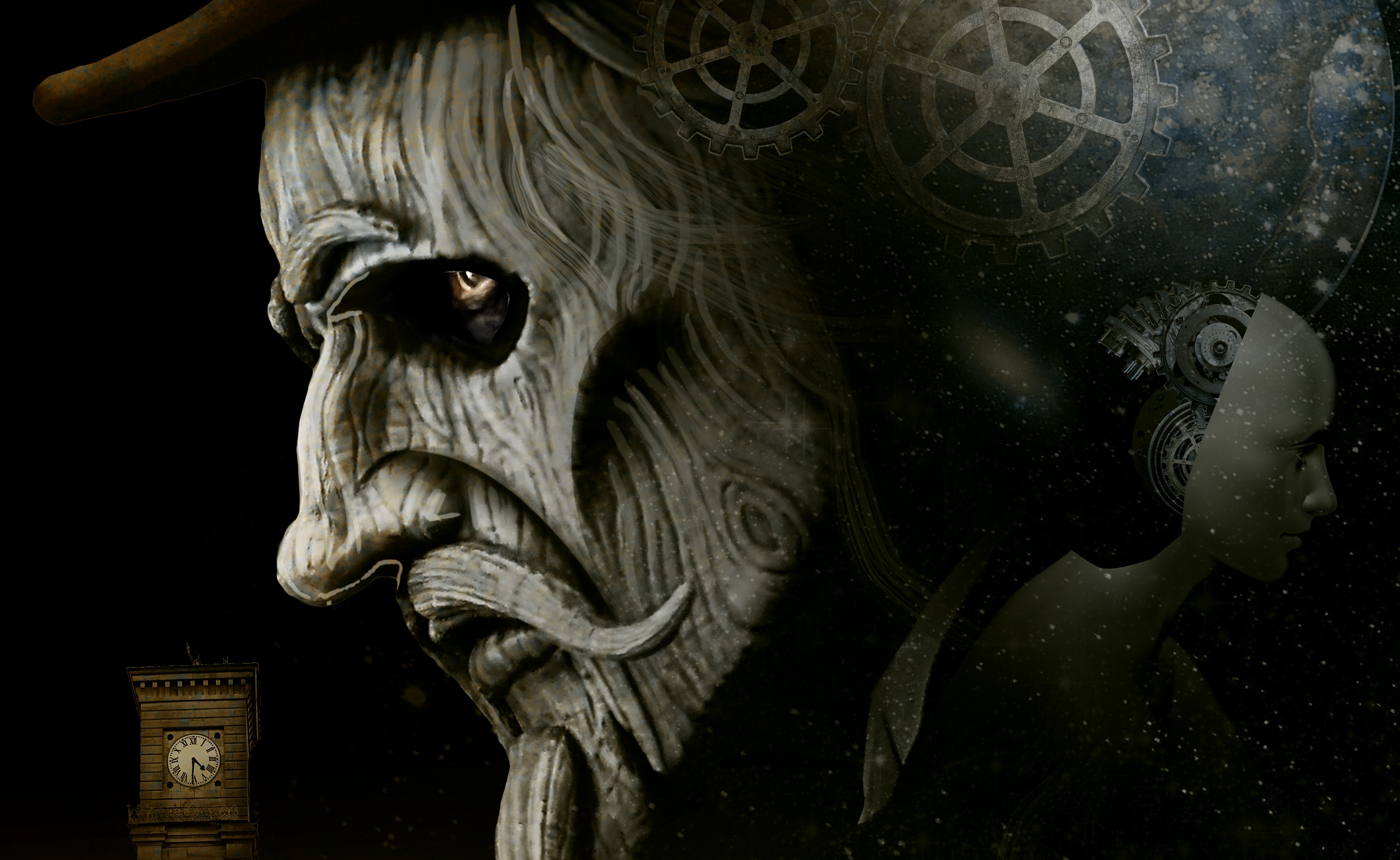 Cashell Horgan is the director of The Clockmaker's Dream, the fantasy short film in competition at the 10th Irish Film Festa (March 30th – April 2nd, Rome).
A Clockmaker, in an automata world, tries to build the perfect woman to replace his lost wife but finds his creations are proving more difficult than he imagined; he must find a solution before his time runs out and his world stops forever…
The Clockmaker's Dream's visual setting is very peculiar in terms of production and costume design: did you look to any particular artistic references while shaping it?
We did a lot of research in prep for design: the characters are figures simulating living beings, representative of people that may inhabit in a small town, except these are fantastical and more like turn-of-the-century toys.
We looked at the tin toys, dolls and costumes of 19th century design but also traditional masks of northern Europe and photographs of homemade Halloween costumes from the 20's to 50's. We wanted a classical setting to fit with Clockwork's machines and automata. But also have a modern mix to suggest the towns creations have been there for centuries.
The papier-mâché masks have an old world, handmade resonance, and were created by Emma Fisher, an Irish puppeteer, and local art students in Limerick. The costumes were designed and made by Limerick fashion designer Tatsiana Coquerel: her inspiration for the work comes from her passion for dolls, so it fitted well with the concept. In production design, again, we wanted to set in the early 19th century, a Jules Verne world of magic and fantasy.
As for the Clockmaker mask, I was inspired by the Man of la Mancha character, and, from the clay, designer Kamil Krawczak from Order 66 Creatures and Effects made it his own. Everyone took the initial designs and ideas and made it their one personal artistic expression.
Where was the film shot?
The film was shot in various location in Limerick city and at Bunratty Folk Park, a recreational park for tourism: it's a model of an old Irish town. The buildings in the park were transferred brick by brick and reassembled. The props and furnishing date back to early 1900's, so it fitted well with the tone and design we wanted. Ger Wallace was production designer, and it involved quite a bit of moving and dressing by John Mac Donnacha with expensive antiques from one location to the next. Getting our hands on clocks proved to be most difficult, and the art department had a demanding and challenging time working with such a low budget.
The film has two lead actors: the masked Clockmaker Joe Mullins acts only through his body and eyes, while the narrator Jared Harris uses only his voice. How did you choose them for their respective roles?
The Clockmaker role demanded an actor with some life experience behind him. We did numerous workshops with the cast and they were so great, but not exactly what I saw in my head. Joe Mullins came in for one of the rehearsals quite close to the shoot date, and when he donned the mask and played out the scene I knew it had to be him: his physical presence, interpretation of the character and expressive eyes sold it. He brought that character to life, made it his own combining elements of mime and theatrical performance for the screen. He had the right amount of reserve in his actions, and range of emotion in his eyes, and postures, that made a believable character. He had that mask on and off set, drinking through a straw and chewing pretzel sticks between long takes. One of the most patient and accommodating actors you could ever wish for, a total pro.
I really admire Jared Harris as an actor, I think his portrayal of professor Moriarty in Sherlock Holmes – A Game of Shadows is not only the best in the all of Sherlock Holmes adaptations to screen but a cinematic gem and his voice as Lord Portley in the fantasy animation The Boxtrolls equally captivating and versatile. The Clockmaker is an off-beat fantasy fairytale it needed a voice that could express the Grimm but also the underlying humours elements in the script. We were lucky that we had a cast and crew screening at the Richard Harris Film Festival, Jared was hosting the Q&As there, and after we screened I simply asked if he would do the narration. Thankfully he agreed, the next week in the recording studio he gave me a range of interpretations and styles of narration, and a good few laughs that for me really completed the film.
I look forward to one day working with both these fine actors and all the cast that made the film. The cast and crew really dedicated themselves and it was their commitment that carried me through a very challenging shoot.