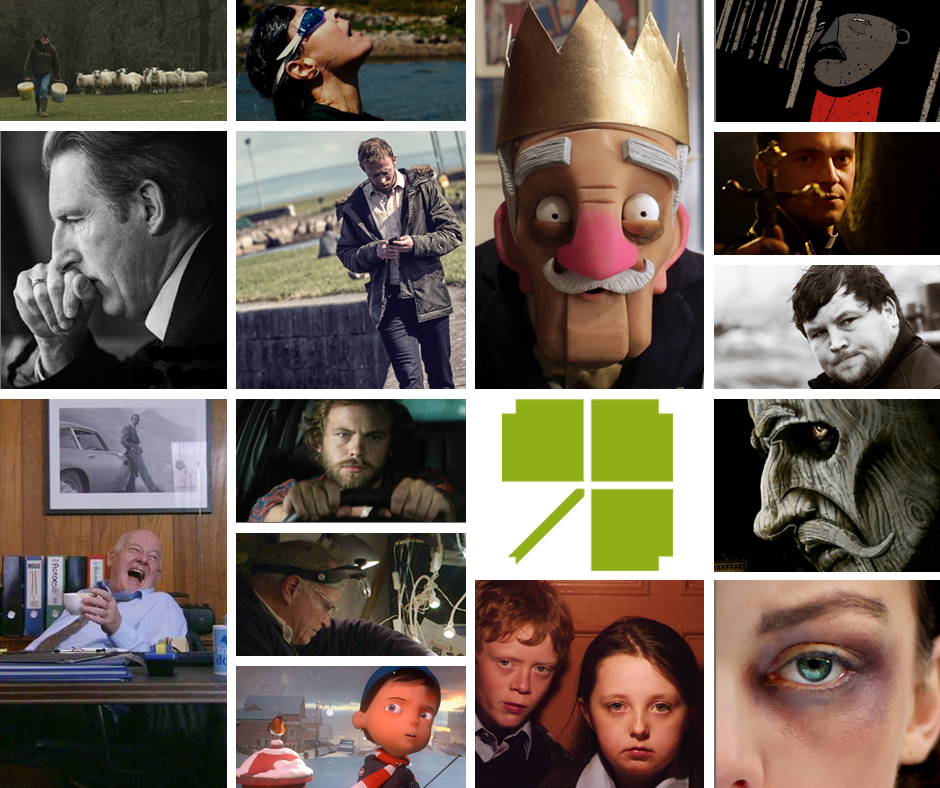 The 10th Irish Film Festa, the only Italian film festival completely dedicated to Irish cinema, will take place from March 30th to April 2nd, at the Casa del Cinema in Rome.
The competition section, reserved for short films produced or co-produced in Ireland, comprises 15 works this year, spanning various genres and techniques: three animated shorts (A Coat Made Dark, The Lost Letter and Second to None), a documentary (Seán Hillen, Merging Views), a mockumentary (Starz), a horror (Blight), a thriller (Gridlock), a fantasy (The Clockmaker's Dream), a humorous and contemporary adaptation of an ancient Gaelic poem (The Court, directed by actor Seán T. Ó Meallaigh who attended the last edition of IFF), a biopic (Two Angry Men), a romantic comedy starring children (The Debt), a formative tale with an LGBT theme (Lily), and three dramas (Homecoming, Pause and Today).
Also of note is the presence of big names among the cast of the selected short films: the protagonist of Gridlock is Moe Dunford (guest at the festival in 2015 with Patrick's Day by Terry McMahon, and actor in the series Vikings); Gerard McSorley offers an extraordinary performance in Starz, whose co-director, Martin McCann, is himself an actor (as we saw last year in The Survivalist by Stephen Fingleton); Two Angry Men sees Adrian Dunbar in the shoes of the Northern Irish playwright Sam Thompson, and newcomer Michael Shea in those of a theatre director James Ellis (the son of Ellis, Toto, is the director of the short); Jared Harris and Kate Winslet are, respectively, the narrators of The Clockmaker's Dream and The Lost Letter, directed by the winner of the IFF in 2012 (with The Boy in the Bubble, narrated by Alan Rickman) Kealan O'Rourke.
"The short film competition, which we launched in 2010, becomes more interesting and attracts a greater following each year: both by the filmmakers (this year we received nearly 100 submissions) and the public. Moreover, as the names of the actors appearing in the selected short films attest, this is an area that Irish film industry considers highly important, and in which is reflected the vitality and richness of Irish cinema, " says artistic director Susanna Pellis.
SHORT FILMS COMPETITION LINE-UP
BLIGHT (2015), Brian Deane
with George Blagden, Alicia Gerrard, Joe Hanley, Marie Ruane, Matthew O'Brien, John Delaney, Tristan Heanue, Donnacha Crowley
A young priest is sent to a remote island off the Irish coast to help protect an estranged fishing community from dark supernatural forces, but nothing is as it seems.
AN CHÚIRT (THE COURT, 2014), Seán T. Ó Meallaigh
with Séamus Hughes, Michelle Beamish, Joanne Ryan
A modern adaptation of the epic Irish poem Cúirt An Mhéan Oíche / The Midnight Court, written in the 1700s by Brian Merriman.
THE CLOCKMAKER'S DREAM (2015), Cashell Horgan
with Joe Mullins, Jared Harris (narrator)
A Clockmaker, in an automata world, tries to build the perfect woman to replace his lost wife but finds his creations are proving more difficult than he imagined; he must find a solution before his time runs out and his world stops forever…
A COAT MADE DARK (2015), Jack O'Shea [animation]
with the voice of Hugh O'Connor, Declan Conlon, Antonia Campbell Hughes
A man follows the orders of a dog to wear a mysterious coat with impossible pockets.
THE DEBT (2015), Helen Flanagan
with Lee O'Donoghue, Susie Power, Eabha Last
When lovestruck ten year old Daithi falls for his classmate Jessica, he turns to his best friend Penny to help win her heart.
GRIDLOCK (2016), Ian Hunt Duffy
with Moe Dunford, Peter Coonan, Steve Wall
When a child go missing during a traffic jam, her distraught father form a search party to find her. But soon everyone is a suspect.
HOMECOMING (2016), Sinéad O'Loughlin
with David Greene, Johanna O'Brien
A young man struggles to find his place in life after returning to Ireland. A familiar face makes him wonder if things are about to change.
LILY (2016), Graham Cantwell
with Clara Harte, Dean Quinn, Leah McNamara, Amy-Joyce Hastings
Lily, a girl with a secret on the cusp of becoming a young woman, is faced with the greatest challenge of her young life.
THE LOST LETTER (2016), Kealan O'Rourke [animation]
with Kate Winslet as the narrator
The tale of a young boy as he prepares his neighbourhood for Christmas.
PAUSE (2016), Niamh Heery
with Janine Hardy
A woman arrives on an island in an altered state to confront her past. As she listens to old family tape recordings her surroundings begin to take on new life.
SEÁN HILLEN, MERGING VIEWS (2016), Paddy Cahill [documentary]
This portrait observes artist Seán Hillen as he creates a beautiful new photomontage – he shares thoughts about his work and recent personal discovery.
SECOND TO NONE (2016), Vincent Gallagher [animation]
A dark comedy about the world's second oldest man.
STARZ (2016), Kevin Treacy, Martin McCann
with Gerard McSorley, Martin McCann, Michael Smiley, Tierna McGeown, Shane Todd, Laura Webster, Gerard McCabe
A documentary film crew follows hopeless actors agent Dan Cambell as he tries to save his sinking business from another industrial tribunal.
TODAY (2015), Tristan Heanue
with John Connors, Lalor Roddy
A hard hitting drama about a man who wakes up one morning in his car, disorientated, with no recollection of how he ended up parked in the middle of nowhere. The harsh reality soon comes flooding back once he gathers his thoughts.
TWO ANGRY MEN (2016), Toto Ellis
with Adrian Dunbar, Michael Shea, Conleth Hill, Michael Smilie, Julie Dearden, Lalor Roddy, Stefan Dunbar
The battle of James Ellis and Sam Thompson to stage the play Over the Bridge in face of censorship in 1950s Belfast.