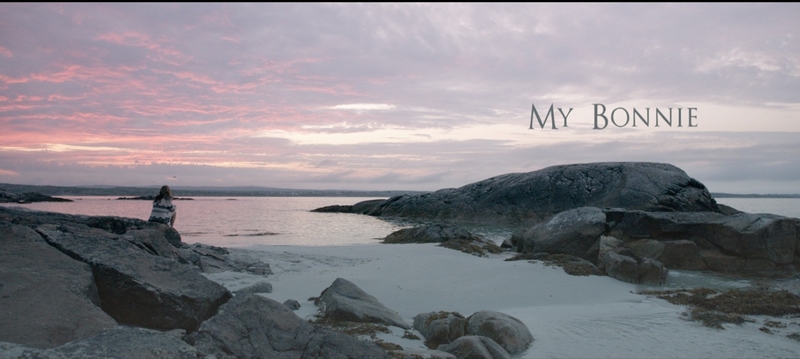 Two people at sea, trapped between a rock and a hard place, must face the distance between them: My Bonnie, directed by Hannah Quinn, is one of the live action short films in competition at Irish Film Festa 2016.
Hannah, daughter of the great Irish film-maker Bob Quinn (who attended Irish Film Festa two years ago with his documentary Atlantean) worked as an assistant director on many films, including Ridley Scott's Gladiator, Black Hawk Down and The Martian. My Bonnie is her directorial debut.
Landscape plays a big part in My Bonnie's story: where was it shot? And how did you work along with cinematographer Tim Fleming to film the beauty of that shore?
We shot My Bonnie off the Connemara coast in Co. Galway. The rock, Carraig Leathan, is on a beach near a village called Carraroe, where we used to go swimming as kids. Tim is also my husband and I dragged him down to the beach at dawn. We witnessed the most spectacular sunrise (see photo below) and agreed we had to shoot the film on the rock.
Two weeks later, an incredibly talented and generous crew and cast agreed to come down west, to shoot the film with us, and we were all put up and fed by my parents. As the beach is isolated and we had no budget, there was never going to be a lighting crew, so we shot the film with natural light and at sunrise and sunset. The crew got up at 4am to wait for sunrise and then went home for a siesta and breakfast. Myself, Tim and our art director, covered set watch. The crew came back in the afternoon for the evening light and some even swam across to the rock as the tide had come in. We were incredibly lucky and got beautiful weather for the shoot, except for one afternoon when the rain came and made the rock too slippy to work on. So we had to stop filming early on that day and go to the pub… every cloud.
Liz Quinn, who plays Sadie, is also the screenwriter: how did you work on the dialogues with her and Tom Sullivan?
Liz wrote beautifully lyrical and rhythmical dialogue, so it was a joy to hear Liz and Tom play with the lines and make them their own. Tom has terrific comedic timing which added hugely to what is a simple but very insightful two hander about the complexities of a couple going through a break-up.
What about the soundtrack?
For the music, I listened to samples of the top 50 Irish albums of 2014 until I hit upon notes that felt right for the film. Next Time Round was the final track on an album by Hidden Highways who are a terrific folk duo. The song really struck a chord with me and feels just perfect.