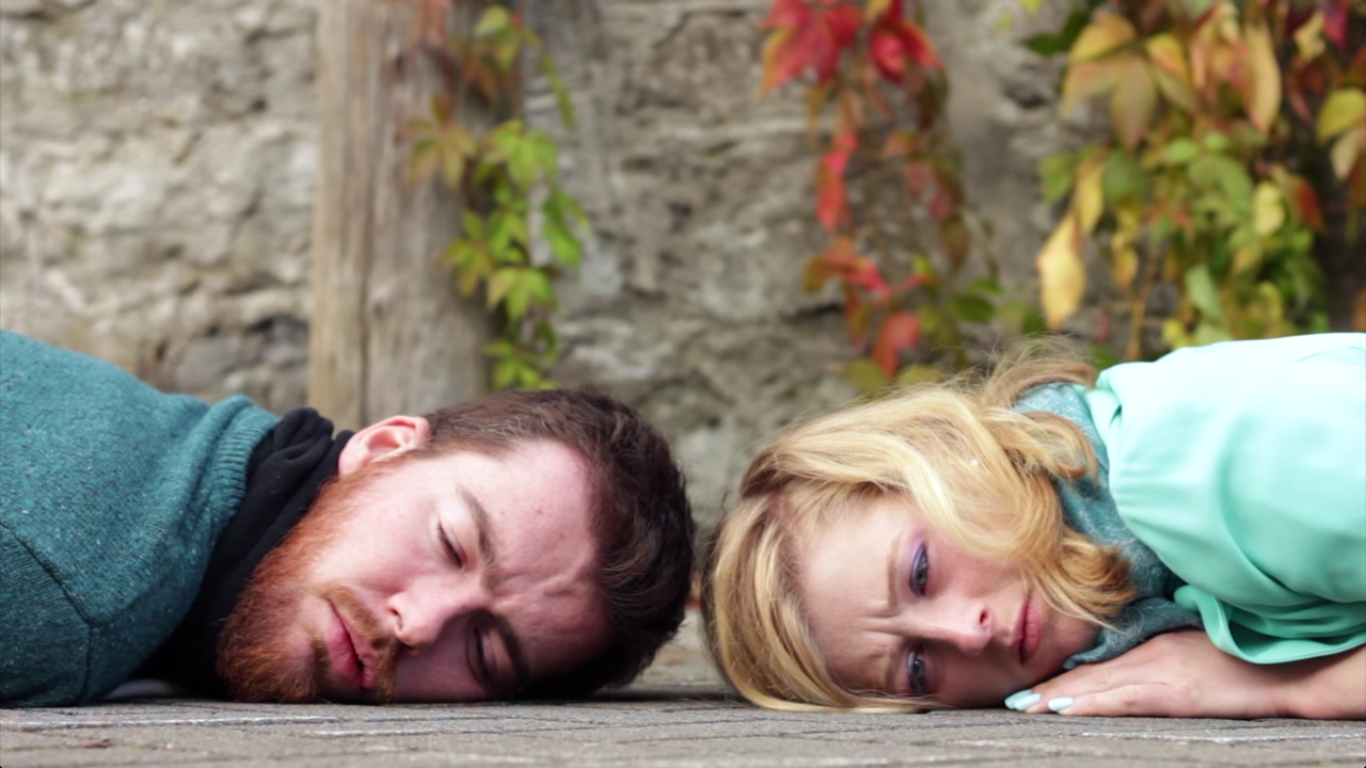 Lying Down, one of the short films in competition at Irish Film Festa 2016, stages a situation which is both physical and metaphorical: Will needs to move on with his life; unfortunately, Will can't move in any direction at all. Alanna can't see what his problem is. Can she help him if she doesn't understand him? Or will Will stay stuck in the same place, forever?
Here are our questions to the two directos, Susan Collins and Brian O'Brien
How did you work, along with screenwriters, on this really peculiar short story?
Our writers Paul McCarrick and Nikolas Fitzgerlad reached out to us as the OFFLline Filmmaker's challenge neared, and we were happy and flattered to collaborate with them. We were lucky enough to have them with us for our auditions, so we could work together on refining the script. We asked actors to try the same lines with different emotions – it's amazing how the meaning of the same lines changes depending on the relationship between the two characters.
This workshop process was a great way for the writers to see which lines worked and which didn't, and for us to clarify what kind of relationship we wanted to see between the characters Will and Alanna. When we started the process, Will and Alanna were very similar people with similar problems. It was much more realistic – and interesting – when we realized that they are different, they don't necessarily understand each other, but they still have a bond.
The script touches on something that a lot of young people in Ireland can empathize with, that sensation of feeling lost after college, but we worked with the writers so that the story wasn't too depressing; you can always find something to laugh at!
How did you choose your main actors, Matt Burke and Hannah O'Reilly?
The auditions were held in pairs where possible to see if the actors had any chemistry. We were lucky enough to have several choices for both characters, and we chose Matt and Hannah because they are very talented actors, who responded to each other really well. They were excellent at showing us how their characters annoy and confuse each other, while at the same time the underlying concern and affection between them is clear. Both worked hard and committed to the story and the shoot.
Where was the film shot?
We shot Lying Down in the beautiful heritage town of Birr, in County Offaly. We found a lovely, narrow street backed by an ivy-covered stone wall, which enclosed all our action into a small, defined space. It was a busy street with lots of people passing by, and their brisk progress contrasts so well with Will's fixed position. The people of Birr are very welcoming and friendly, and we were delighted to have some local people (including a Birr kitten!) in our film. Finding new ways to shoot this strange little story wasn't easy, but it was a lot of fun! We had to shoot it over a very small period of time, but having it be set one location was a big help in this regard; our limitations helping us focus on making the most of the script and the actors.