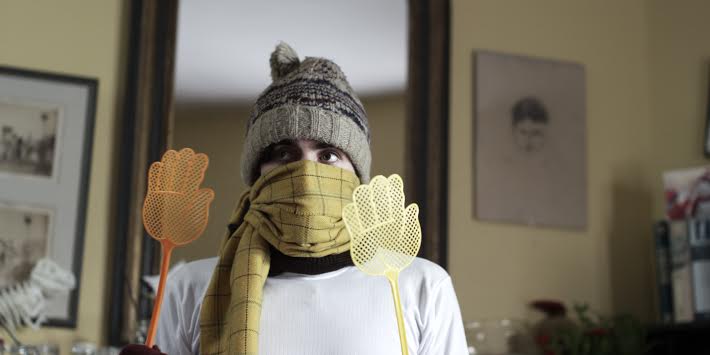 Struggling children's book writer Harold Finch gains an unexpected house guest, a 20 year old, hyper-intelligent mosquito named Anabel: Harold and Anabel are the protagonists of Love is a Sting by Vincent Gallagher, one of the short films in competition at Irish Film Festa 2016.
Harold is played by Seán T. Ó Meallaigh, who also stars in tv series 1916 Seachtar na Cásca as Seán Mac Diarmada and Gaelic-language western An Klondike, which are going to screen at Irish Film Festa as well, and are both directed by Dathaí Keane. Seán e Dathaí are expected to attend the festival.
Love is a Sting also feature another Irish actor, the great Ciarán Hinds as the Narrator, and is written by Benjamin Cleary, who won the Oscar for best short film this year with Stutterer.
Here are our three questions to Vincent Gallagher.
A mosquito is a very unusual protagonist: how did you and screenwriter Benjamin Cleary create the character of Anabel?
Mosquitos are universally regarded as pests. Myself and Ben were always really interested in the idea of perception. People often judge books by their covers, we wanted to show that when you look closely you might see something beyond the surface.
It was important that when Harold interacts with Anabel in the beginning he sees her just as a pest, just as anyone would. It's not until we look beyond that, when we see her in close up that we see her true face. We wanted her to have her own personality, she has lived among humans, has been fascinated by them, so she has naturally picked up some human mannerisms.
Why did you choose Ciarán Hinds as the Narrator?
Ciarán Hinds brings such a warmth to the narration. With the storybook quality of the film, we wanted a narrator that had a very distinct voice with gravitas. Ciarán has such a quality to his voice that you would want to hear him reading you a story. Ciarán was playing Claudius in Hamlet with Benedict Cumberbatch in London and we managed to get in contact with him, and he came on board straight away. With a small window of opportunity I travelled over to London and recorded the narration.
Where was the film shot?
We didn't want the film to feel like it was set in any particular time or place. To achieve this we shot the exteriors of Harold's home in an old Victorian tenement which we digitally stitched together with the interior, which was shot in another part of Dublin.