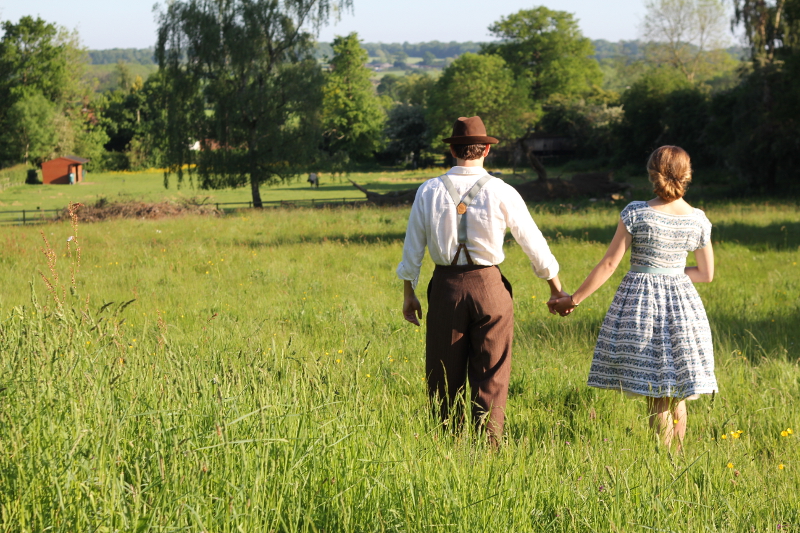 Joseph is an elderly man who, upon dying, is given the opportunity to relive one day of his life: Joseph's Reel, directed by Michael Lavers, is one of the ten live action short films in competition at Irish Film Festa 2016.
Shot on 35mm film, Joseph's Reel stars Robert Hardy (Sense and Sensibility, Harry Potter), Alice Lowe (Hot Fuzz, Sightseers), Oliver Tilney and Ella Road. The film world premiered at Palm Springs ShortFest in June 2015.
In the following interview, Michael tells us that he's currently working on a feature version of the short.

In Joseph's Reel cinema and its language are used as a metaphor for time travelling and manipulation. Can you tell us something about this aspect?
That's an interesting take, and I'm now wondering if the whole thing is this awful manipulation fantasy!
I guess featuring the cinema screen and script was always going to invite those comparisons to filmmaking. Even more interesting to me though was the comparison to our memories. In the film, Joseph has to follow the script of the day as it happened, but where did that script come from? Is it a note-perfect recording of what actually happened (like time travelling), or is it just the subjective script of how Joseph remembered it?
In a way, when we remember things we're all filmmaking — we take music, images, phrases and emotions and tie them all together (or manipulate them!) into something that makes sense to us. It's even more relative when you think how fallible memory is and how it can change over time. I thought that was pretty interesting, and I've tried to keep that idea front and centre in the feature version I'm writing (shameless what-I'm-up-to-now drop).
How did you cast the two Josephs?
My producer Collie McCarthy (who will be at your lovely festival) and I always hoped we could land a known actor to play Old Joseph, so we sent the script out to a few British heavyweight character actors. We couldn't believe it when Robert Hardy said he was interested in the role. I'd grown up watching him on All Creatures Great and Small re-runs, so it was a dream to work with him. It was also scary, but only for all of five minutes — he was the sweetest, most dedicated actor I could have hoped to have worked with.
When we knew he was signed on, we went looking for a Young Joseph we thought could look like Robert in his twenties. We looked at pictures of Robert in a BBC series of Henry V from 1960 for reference. However the actor we cast, Oliver Tilney, doesn't actually look that much like Robert did! But Oliver was so good in his audition he didn't give us much of a choice; he was totally believable in this weird scenario. Oliver's trained in both screen and stage performance, so he had the physicality we wanted for all the running around required coupled with an incredible acting talent.
Where was the film shot?
We shot the flashback scenes at a cottage down in Surrey, which is south of London in the UK — it had these great open spaces and our production designer worked hard to get it looking like a 50s household. The cinema/projection room scenes were shot in Hammersmith, London, at Riverside Studios. They knocked the place down a few months later (it's being re-developed) so I think we were the last to film in the cinema as it was. We got very lucky with the exteriors — a beautiful sunny weekend between two huge downpours — but that's British summertime for you!