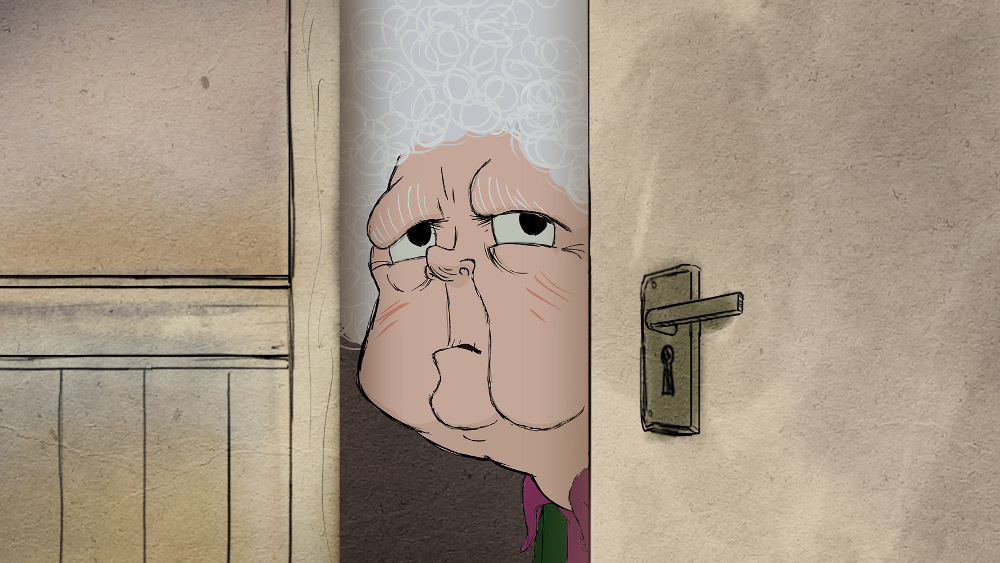 Deadly is one of the five animated short films selected for the Irish Film Festa 2015 competition. Written and directed by Aidan McAteer, the short tells the story of working stiff Boney and spirited old lady Bridie: a beautiful story about life and death.
Deadly was produced by Kavaleer Studio under the Irish Film Board's Frameworks scheme, which is specifically dedicated to animated short films.
Aidan explains how he developed the script and gives us a unique insight in the animation process.
How did you come up with the idea for this beautiful story?
The original idea came out of a screenwriting class I was doing a few years ago. It started out as an idea about the character of death losing his job. I thought we could then hilariously show him trying other jobs, but this ended up being essentially one joke and not that original. Gradually the story became less broad and when I thought of him more as someone trapped in a dead end job (pun inevitable) and paired him up with Bridie, I felt like we might be onto something. I came up with the final image of the film and had a beginning, then with the help from everyone at the studio (especially my producer Shannon George) we finally got a second act that felt right!
Can you give us a brief description of the animation process, from the character design to the integration with the backgrounds?
Like live-action films everything starts with the script, as I was working on this I was constantly doodling, trying to find the characters. I nailed down the design of Boney early on, but Bridie took a lot longer. It can be tricky designing for a more adult audience as my day job usually involves a very young audience. Everyone pitched in and I finally settled on the current design. Our lead animator, Jean Maxime Beaupuy, really helped nailed down the final look of the characters.
Once you have some concept designs and a script you can start storyboarding — making quick, pencil drawings of the main action and what every shot will look like. We then edit these together with temporary voices and music into an animatic and then we can essentially watch a version of the film. In animation you have to do all your editing before hand — it's too expensive and frankly heart-breaking to cut finished animation — so it's important to get the animatic right. Myself and my editor, John Peavoy, cut and recut that damn animatic — I think there's about 30 versions on a back hard drive somewhere!
Up to this point there's lots of pencils and paper involved, then (for this film) we went digital. It was important to me to make sure that the film looked organic and hand made. Sometimes the computer can make things look very slick and even sterile, so our production designer, Graham Corcoran, and his team worked hard to make the backgrounds look like they were hand-painted and full of texture, even if they were created using Photoshop.
We did the animation in a software called Flash — which again can look sometimes make the animation look a a bit mechanical and overly fluid, so we got one of our artists, Siobhan Twomey, to draw over every frame to keep an organic line moving and alive. The voices are already recorded so the animators work with vocals to create the performance you see on screen. Our compositing lead Amber Hennigan then put the lines, animation and backgrounds together and added more texture and lots of wonderful special effects.
Brenda Fricker and Peter Coonan lend their voices to Bridey and Boney: how did you choose them?
I had seen Peter Coonan in a few short films and on a really popular Irish tv show, Love/Hate. We needed someone with a Dublin accent, but more than that Peter has a very distinctive tone to his voice that really grounded Boney — this was very important, not only because the grim reaper is a mythical character, but because our grim reaper is very much a working class guy going through the motions of his daily routine.
For Brenda Fricker, I did the thing they tell you not to do: I wrote the part with Brenda in mind. I was struggling to find Bridie's voice and when I thought of Brenda, it informed the character a huge amount (even down to her character design). It took a bit of convincing, but I was delighted when she accepted the role. Brenda is such a phenomenal actress and brought a genuine warmth, sensitivity and humanity to Bridie. I feel very lucky to have had the opportunity to work with those two wonderful talents.