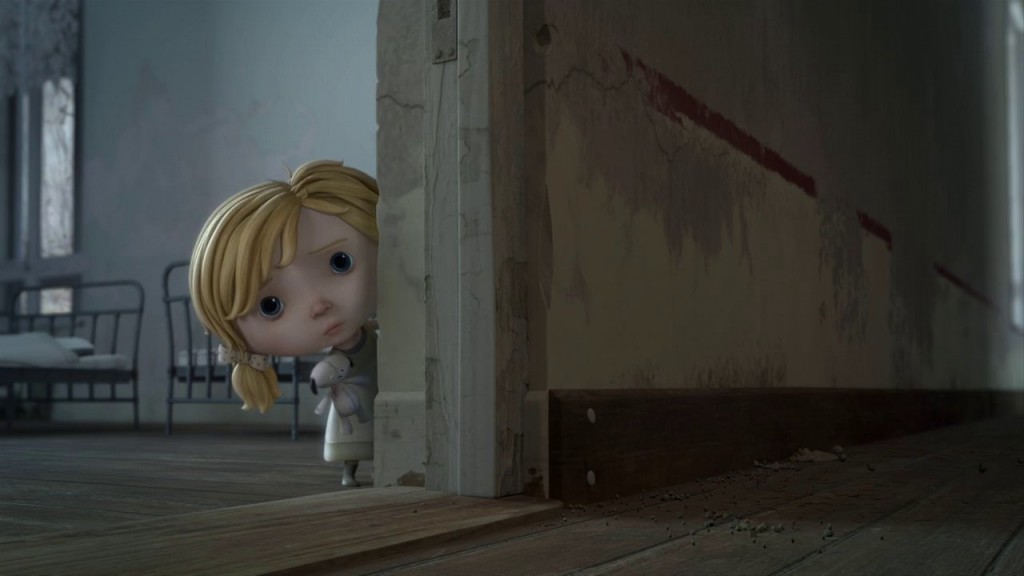 Anya is one of the five animated short films selected for the Irish Film Festa 2015 competition: it is directed by Damien O'Connor and produced by Brown Bag Films, the two Oscar nominated studio founded in 1994 by Cathal Gaffney and Darragh O'Connell. Damien has already taken part in our festival last year, with his short After You.
Anya tells the story of a little Russian orphan and was commissioned by Irish charity To Russia With Love: founded by Debbie Deegan in 1998, this charity provides programmes of care to abandoned and orphaned Russian children.
We spoke to Damien O'Connor who gave us an interesting insight into the development of this special project.
Why did you at Brown Bag Films decide to produce a short to support To Russia With Love?
Debbie Deegan, who runs To Russia With Love, phoned me in work one day out of the blue to ask if I would like to make them a 30 second advert. I didn't know Debbie or her charity so I explained that it would just be too much work and politely declined.
However, Debbie never takes no for an answer so I ended up being 45 minutes in the phone explaining every reason why I couldn't do it. I again told her no, hung up and returned to my desk. There was an email waiting for me from Debbie Deegan: she wanted to know when we would start.
I was amused enough to look up the To Russia With Love website, once I read about the kids in her care, I knew I had to help. I phoned her back and told I would help, but only if we could make a short film as it would get more exposure than an advert. She happily agreed so we pitched it to the studio looking for volunteers. Fortunately loads of people wanted to help out, so that's how it all began.
How did you choose this particular story to tell?
I originally wrote it as a 'once upon a time' bedtime story, the twist being that the woman telling the story is the orphan we have just seen growing up in the orphanage.
I then travelled to the Hortolova orphanage in Bryansk, Russia, and met the children. I heard about their stories and quickly learnt they all had something the story was missing – hope. This was also the trip where I filmed the kids running about acting out the film, Sascha (the blond girl on the credits) became our Anya.
The line 'Dream Big Little One' was a line that an Irish volunteer used to whisper to the children. So I rewrote the story to make it more optimistic and designed the character around Sascha.
Then we kept working on the animatic trying to get the story to come together, the final shot with the train in the background was the last piece of the puzzle, once I put that in I was happy I had a story that worked, but also a story that would let the kids know there is always hope for their futures.
Despite its tough theme, the short conveys a light atmosphere: how did you work on the colour scheme? And what about the soundtrack?
I was the art director on the film so I knew we had to go from cold blues to warm gold and red so we planned that very early on. I was also very lucky to have three great lighters working on the film – they really worked hard to give it a rich look and they were all also very keen to have the details be 100% accurate, so they worked on the lace curtains, the peeling paint and the overall textures to make sure it all work. They did an amazing job.
The soundtrack is by Darren Hendley, who I have worked with before. I used a temp track to time the animatic, originally it was all sad cellos and violins, but it was not working, so I swapped it for a more upbeat tempo. Darren then came up with the idea of the music 'catching' – it is almost like the score tries to play three times, failing the first two times until Anya gets up from bed and goes exploring.
Part of the temp music I had used early on was the Gravity soundtrack which features the amazing Lisa Hannigan. I got in touch to ask is she could record vocals, she was very responsive and agreeable and it is her singing on the Anya story. We kept tweaking the edit and the music throughout production until it all gelled and I am delighted with the results: everyone loves the music!