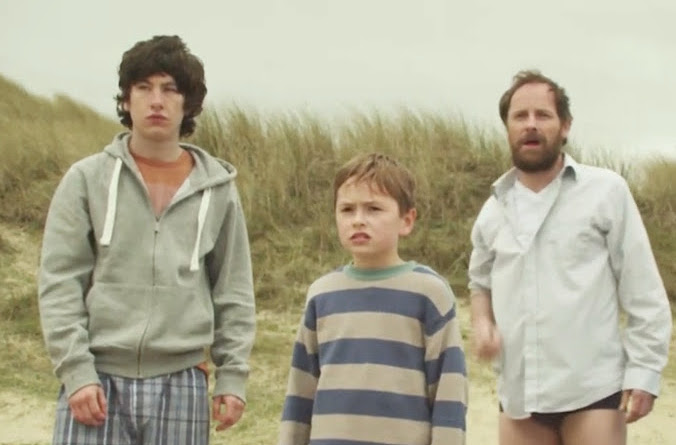 Denis Fitzpatrick and Ken Williams are the directors of The Break, one of the short films selected for the Irish Film Festa 2015 competition.
Tim (Ronan Leahy) lives in a tent on the beach with his two young sons (Barry Keoghan and Jacob Lea), as a consequence of the economic crash: they really love each other but everyday life is not easy.
The Break is the fourth short film by Denis Fitzpatrick and Ken Williams, after Car Film with Jack Reynor, The Daisy Chain with Fiona Shaw as the Narrator (which was in competition at Irish Film Festa in 2014) and The Last Dart with Fionn Walton.
Denis and Ken spoke to us about the story of The Break and its amazing group of actors.
How and when did you get the idea to tell this story?
K. Williams: Denis and I both liked the idea of doing something with a tent and the script grew from there, really. We did worry we were just doing another 'recession' piece but we felt it was an interesting take on it.
D. Fitzpatrick: Ken wrote a really powerful script. A father at the end of his tether, who deals with the economic collapse in his own simple way – that's actually not so simple. It's also about outsiders and how they're treated.
Where was the short film shot?
K. Williams: The short was shot over four days, Friday to Monday last April in Wicklow, which proved to be perfect for what we needed as we were able to find all our locations within a few miles of each other. We used Brittas Bay in Wicklow for our beach scenes. The beach has proved to be a popular location in recent years, and has featured in films such as What Richard Did and the Penny Dreadful tv series. We also used a small shop and a pub in nearby Redcross.
D. Fitzpatrick: The location was very important and we couldn't have asked for better. We were haunted with the weather too!
What about the casting?
D. Fitzpatrick: Ronan Leahy was always our first choice to play Tim. I had seen him on the stage in Drum Belly at the Abbey Theatre, so he'd been on my radar for a while, and when myself and Ken went to see him in The Colleen Bawn, we knew that we had our man.
We cast Barry Keoghan on the advice of Maureen Hughes, who is one of the biggest casting directors in the Country. His star has been rising over the past two years, and we were delighted to get him on board while he was still available!
Jacob Lea is another one for the future, and has already amassed a good number of credits for such a young age.
Emmet Kirwan starred in a previous short film that I'd directed, so I was delighted to get him for this one. His two man play Dublin Oldschool was one of the highlights of last year's Dublin Fringe Festival.
Ken has worked on a number of projects with Aoibhéann McCann and she was very involved in all in the pre-production too.
I had only previously seen Jon Kenny in his various comedy guises. It was a wonderful opportunity to work with him on his scene with Ronan, and to watch the drama unfold.
K. Williams: I'm delighted with the cast and crew we worked with. Ronan was a total pro and gives a terrific performance, and I'm expecting big things from Barry, he's a proper actor. Russell, our DOP, and his team really made the film look beautiful. We've been very lucky. That's the best thing about making films – the amazing people you get to work with.

WATCH THE SHORT