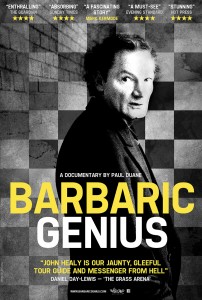 Barbaric Genius is a documentary film directed by Paul Duane (The Making of Rocky Road to Dublin, Natan: The Untold Story of French Cinema's Forgotten Genius) about the popular London-Irish author and chess champion John Healy.
The doc was critically acclaimed, got a Grierson Awards nomination and now, thanks to Wildcard Distribution and for the first time for an Irish feature, it is also available to buy on DVD and VoD worldwide through the official website.
Synopsis:
The son of Irish immigrants, John Healy lived rough on the violent streets of London for fifteen years drinking heavily and turning to crime to survive. On one stint in prison he was taught the basics of chess by his cellmate. This became his new addiction as alcohol was left behind. He became a rated player who had an incredible ability of taking on and defeating multiple opponents at the same time.

He wrote a memoir of his life which became the best selling book The Grass Arena and for a time he became the darling of the British media. Then he disappeared with stories emerging that he'd made threats of violence towards his publishers, that he was mentally ill and a psychopath.
Barbaric Genius meets John as he's about to make a comeback to the literary scene after nearly 20 years with the likes of Irvine Welsh and Daniel Day-Lewis as his cheerleaders. Having been savaged once by the media and the literary world, how will he deal with success second time round and the inevitable digging-up of his violent past that comes with it?
The documentary was produced by Paul Duane and Mary Carson for Screenworks, with funding by Irish Film Board and RTÉ.