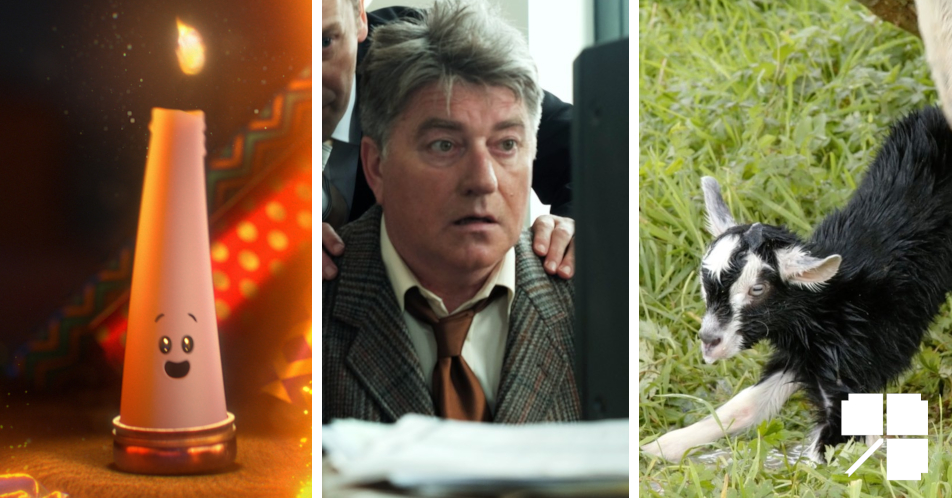 ☘️ LIVE ACTION☘️
A RUNNER (Ireland, 2022) 13'29"
directed by TJ O'Grady Peyton – producers: Ronan Cassidy, Greg Burrowes
with Dane Whyte O'Hara, Barry Ward, Emmet Kirwan, Andie McCaffrey Byrne, Maria Oxley Boardman, Evan Hamilton
On his routinely night-time run, a struggling teenage boy comes across a semi-familiar figure, in a similar state of turmoil.
---
ANAM CHARA / SOUL FRIEND (Ireland, 2023) 14′
directed by Cillian Ó Gairbhí – producer: Ó.G. Productions
with Cillian Ó Gairbhí, Rachel Feeney, Owen Roe
The short unfolds inside a take-away in small-town rural Ireland, offering us a window into the inner world of a relationship reaching crises point. Kevin and Kathleen seem ready to part ways, but should they stay together if they truly are, soul mates?
---
BIG GRIFF: LÁNCHÚLAÍ (Ireland, 2022) 19'32"
directed by Nathan Griffin – producer: Nathan Griffin
For his first documentary, filmmaker Nathan Griffin takes us on an emotional journey to celebrate the life of his uncle Martin Griffin who died in 2021. Considered one of Donegal's finest footballers, the lively Big Griff helped bring glory to his county in 1983.
---
HYFIN (Northern Ireland, 2022) 12'40"
directed by Seán Mullan – producers: Michael Barwise, Seán Mullan
Jordan-Lee Brady-James aka HYFIN, a young Derry-Londonderry man in-between places, is told that a Northern Irish accent can't rap.
---
THE HAPPY HERD (Ireland, 2022) 12'7"
directed by John Kennedy – producer: John Kennedy
with Seán O'Laoghaire
A short documentary following an artist and storyteller that lives nearly entirely off grid with a herd of goats in rural South Kerry. The film shows how Seán has created a growing international community through the shared love of stories and goats.
---
THE LIFE OF LESTER WINK (Ireland, 2023) 17'6"
directed by Cassidy C. Harrison – producers: Gregory Burrowes, Ronan Cassidy
with Pat Shortt, Clelia Murphy, Ronan Leahy
A pet insurance salesman with a phobia of talking with strangers needs to bring in a sale by 5 pm or get fired. Going door to door he meets a widow who is afraid to leave her house.
---
THE RADIO (Ireland, 2022) 11'3"
directed by Laura Kavanagh – producer: Evan Horan
with Lalor Roddy, Angela Teefey
An elderly widower depends on his radio to keep a foothold in his routine. When it breaks, his daughter is forced to pay more attention to her isolated father.
---
THE TALK (Ireland, 2022) 10′
directed by Jonathan Hughes – producer: Joanne Heffernan
with Conor Cupples, Matthew McMahon, Conor O'Kane
Staunchly unionist father Dennis walks in on his son Barry in bed with a man. However, Barry isn't the only one hiding a secret from the family.
---
UILÍOCH / UNIVERSAL (Ireland, 2023) 6'57"
directed by Seosamh Mac Seoin – producer: SETU
A man reflects on his childhood trauma and how grief steals the innocence piece by piece, suddenly turning him from a boy into a man.
☘️ ANIMATION ☘️
CANDLELIGHT (Northern Ireland, 2022) 6'47"
directed by Scott Newton – producer: Richard Gordon
In a dusty attic, two dinner candles spring to life and fall in love. However, the two make a shocking discovery that forces them to choose between a life without the other, or sacrifice everything for love.
---
MEMORY OF MY FATHER (Ireland, 2022) 1'33"
directed by Cian Hughes, Bárbara Oliveira – producer: Claddagh Records
with the voice of Liam Neeson
An animated accompaniment to Patrick Kavanagh's poem "Memory of my Father" narrated by Liam Neeson. Throughout the poet's encounters with older men, he sees his own father reflected in them.
---
SMALL HOURS (Ireland, 2022) 5′
directed by Marta Sniezek, Christian Spurling – producer: IADT
A fully split/mosaic-screen 2D animation short that follows two people's trains of thought, transitioning from one memory to another. As we dive deeper into the memories we transcend into the character's subconscious and lose track of reality.
---
Out of Competition:
directed by Tom Collins – producers: Pearse Moore, Tom Collins
An animated adaptation of Flann O'Brien's only novel written in Irish under the pseudonym of Myles NagCopaleen. It is a biting satire of the life story of a young Gael reflecting on his life from Sligo Gaol.