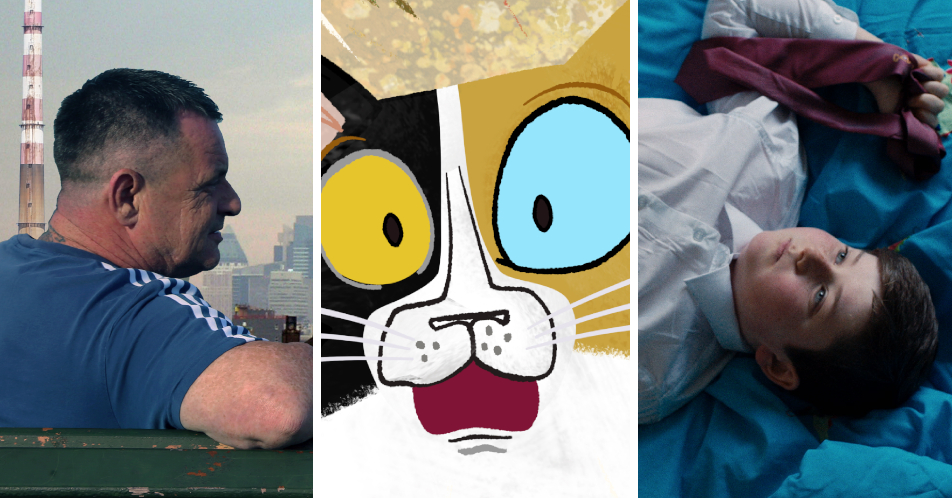 ☘️ DRAMA ☘️
AN IRISH GOODBYE (Northern Ireland, 2021) 24′
directed by Ross White, Tom Berkeley – producers: Tom Berkeley, Ross White, Pearce Cullen
with Seamus O'Hara, James Martin, Paddy Jenkins
Against the backdrop of rural Northern Ireland, a black comedy following the reunion of two estranged brothers following the untimely death of their mother.
---
BUGALOO (Ireland, 2021) 14′
directed by Peter McCarthy, Ben Conway – producers: Peter McCarthy, Quintin Ahern
with Moe Dunford, Ruairi Heading
Theo is on the run from the police while still in handcuffs. He hides out in a nearby mansion with the help of Arthur, the supposed owner. Things take a turn for the strange when Arthur challenges him to a game of Bugaloo and Theo realises Arthur has his own problems.
---
CHERRY (Ireland, 2020) 18′
directed by Kate Stanley Brennan – producer: Lara Hickey
with Sunni Doody, Charlene Gleeson, Stephen Brennan, Aoife Duffin
Cherry's mum has big dreams for her 7years old football fan to win the Xtravadance Dance Championship when a rival encounter has an unespected outcome.
---
CONSTANCE (Ireland, 2021) 12′
directed by Úna Kavanagh – producers: Úna Kavanagh, Image Ireland
with Úna Kavanagh, Aoife Ní Bhroin, Ailbhe Kavanagh Lohan
What does it mean to be free? What does it cost? A woman held in captivity is coming to terms with the consequences of her political and personal life. She reflects and dreams in her captivity. This surreal and intimate portrait is inspired by the words and letters of Constance Markievicz during her imprisonment.
---
HARVEST (Ireland, 2020) 16′
directed by Tristan Heanue – producer: Ronan Cassidy
with Lalor Roddy, Gary Lydon, Marie Mullen, Brendan Conroy
Joe Gibbons prepares to go back to the local cattle mart for the first time since his near fatal heart attack. But, it's no ordinary day and Joe is soon confronted with the harsh truth of his future.
---
JUST JOHNNY (Northern Ireland, 2021) 20′
directed by Terry Loane – producer: Shauna Shivers McAtamney
with Roisin Gallagher, Martin McCann, Daniel Willis, Darcey McNeeley, Sean Kerns
Maria and Dermot's straightforward family life takes a sudden turn when their son Johnny announces that he wants to wear a dress for his Holy Communion. Both parents are keen to do what is best for Johnny, but their different opinions almost pull the happy family apart.
---
RAT (Northern Ireland, 2021) 17′
directed by Sarah Gordon – producer: Siobhán Barbour
with Abigail McGibbon, Dan Gordon, Terence Keeley, Gerard McCabe, Damian McCann
Trapped in the house by her agoraphobia, Carol endures an abusive and suffocating marriage. But when a rat invades her home, she is forced to face up to her situation and deal with the vermin herself.
---
ROUGH (Northern Ireland, 2020) 13′
directed by Declan Lawn, Adam Patterson – producer: Louise Gallagher
with Ryan McParland, Michael Smiley, Gerard Jordan
In contemporary Belfast, a young man faces retribution for the transgressions of his beloved dog.
---
RUTHLESS (Northern Ireland, 2021) 12′
directed by Matthew McGuigan – producers: Leo McGuigan, Paul McGuigan
with Jay Lowey, Jonathan Harden, Frankie McCafferty
In 1970's Northern Ireland, a young boy, bereft of his mother, defies his father to get the Glam Rock album he so desperately wants. Ruthless is a humorous, heartwarming story of how a prosthetic leg and a T. Rex album become the conduit for overcoming grief.
---
THE BRIDGE (Ireland, 2019) 15′
directed by Mark Smyth – producer: Lynn Larkin
with Peter Coonan, Lochlann Ó Mearáin, Marie Mullen
After the sudden death of his parents, a young man must choose between returning to his home village in the west of Ireland to care for his estranged younger brother and a bright future in the city.
☘️ DOCUMENTARY ☘️
IRELAND'S LAST MATCHMAKER (Northern Ireland, 2021) 18'
directed by Sam Howard – producer: Jethro Baird
Ireland's Last Matchmaker is a meditative, quirky film exploring romantic love in Ireland's Wild Atlantic Way. The film centres around a larger than life 'matchmaker' called Willie Daly, aged 80, whose job is to find the lonely farmers of county Clare a loving partner.
---
NOTHING TO DECLARE (Ireland, 2021) 30'
directed by Garret Daly – producer: Martina McGlynn
The charming story of two Irish boys aged 10 and 13 on a stowaway adventure of a lifetime from Dublin to New York in the summer of 1985. Keith and Noel recount their childhood journey for the first time on screen in this nostalgic transatlantic adventure.
---
RESCUE DOG (Ireland, 2020) 15'
directed by Ciara Buckley – producer: Dave Slowo
Rescue Dog explores the incredible bonds that form between humans and their rescue dogs.
---
SPEAKING IN SILENCE (Northern Ireland, 2020) 14'
directed by Zoe Tweedy – producer: Brian Henry Martin
Speaking in Silence gently explores the experience of Selective Mutism from within. Selective Mutism is an anxiety disorder, through which the sufferer is unable to speak in many social settings. Extending far beyond shyness, the silence becomes an insurmountable wall to the outside world. A wall built on fear.
☘️ ANIMATION ☘️
A CAT CALLED JAM (Ireland, 2019) 8′
directed by Lorraine Lordan – producer: Jeremy Purcell
with the voices of Evan Lordan, Amy Huberman, Owen Roe
Jam, a Maine Coon cat sees himself differently to how the rest of the world sees him. To the world he is just one more cat, but to himself he is every bit a dog.
---
GÜNTER FALLS IN LOVE (Ireland, 2020) 2'
directed by Josephine Lohoar Self – producers: Carla Mooney, Delwyn Mooney, Joseph Wallace
Günter, a pudgy family pug, falls madly in love with an inanimate object.
---
MAM'S OLD CHAIR (Ireland, 2021) 2'
directed by Sheena Walsh
with the voice of Pauline Walsh
A film about memories of childhood, a sense of community and the joy that can be derived from everyday objects. The chance find of an old chair highlights how locally sourced, locally made goods can be repaired and reused across many generations.
---
MEMENTO MORI (Ireland, 2021) 9'
directed by Paul O'Flanagan – producer: Louise Ní Chonchúir
with the voice of Mark Gatiss, Laura O'Flanagan
Post-mortem photographer Mr.Huxley tends to his latest subject: a mysterious young woman, whose presence conjures Huxley's personal demons, compelling him to confront his narcissistic life.
---
SOUL OFFICE (Northern Ireland, 2021) 11'
directed by Ryan Loughran – producers: Fiona McLaughlin, Tom Getty, Grace Loughrey
with the voices of Aoife Hinds, Ryan Loughran, Shaun Miller
A criminal duo bite the dust during the heist of an ATM. They come back as ghosts for one more shot to pull off their plot.
---
WET & SOPPY (Ireland, 2020) 4'
directed by Cliona Noonan – producer: Stephen Fagan
A weather tormented man who just wants to dry his underwear is forced to use the local Laundromat each evening.
---
The short films will screen at the Casa del Cinema in Rome on May 21st and 22nd, and will be available to stream on the IFI International platform (geoblocked, Italy only) from May 21st to 25th.
A professional jury will award three prizes (Best Drama, Best Animation, Best Documentary); all the shorts will also compete for the Audience Award.