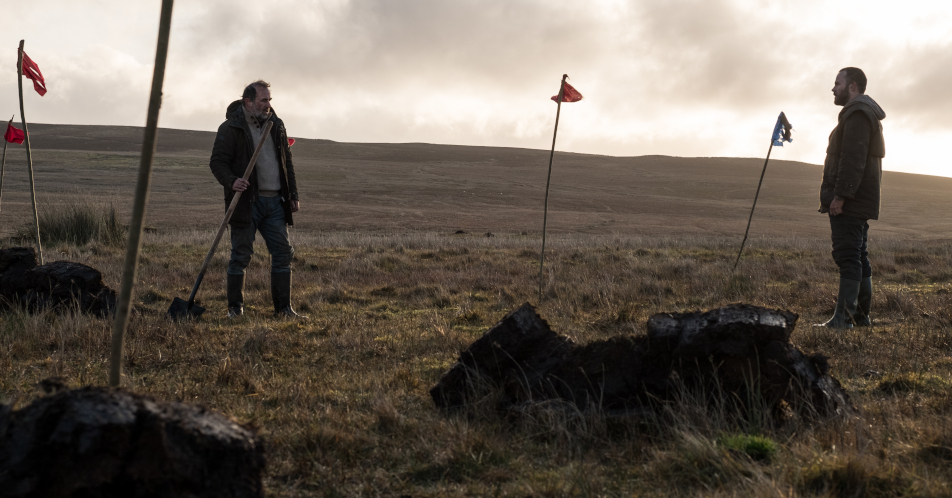 Northern Ireland, 2018
Directors: Andrew Tohill, Ryan Tohill; script: Stuart Drennan; cinematography: Angus Mitchell; editing: Helen Sheridan; music: James Everett; production design: Ashleigh Jeffers; casting: Carla Stronge; producer: Brian J Falconer; production company: Out of Orbit. Irish location: Ballymena, Co. Antrim
Running time: 97'
Cast: Moe Dunford, Lorcan Cranitch, Emily Taaffe, Francis Magee
Best Irish Film – Galway Film Fleadh 2018
SYNOPSIS
After serving fifteen years for murder, Callahan returns home to find Sean, his victim's grieving father, searching for the body on an endless bog. With no memory of the murder, Callahan soon realizes that the only way to get rid of Sean is to help him dig.
DIRECTORS
The Tohill Brothers are a directing team from Belfast. Andy has worked in post-production for several years editing short films, television, and feature documentaries. Ryan has worked in the art department for television and film including Game of Thrones, The Frankenstein Chronicles, Line of Duty, Philomena and The Fall.
Together they directed the short films Eye-Line (2012) and Insulin (2015). The Dig (2018), Best Irish film at the Galway Film Fleadh 2018, is their first feature.