DRAMA
ASK ME NOW
Ed Cleary (Ireland, 2018)
Prod. The Loneliest Monk — 16'37"
with Charlie Moon, Sorcha Herlihy, Adam Devereux, Tony Cantwell, Wes O'Duinn, Patrick Murphy, Joseph Caulfield
A celebration of jazz music in Dublin and the pitfalls of the creative lifestyle.
BLESS ME FATHER
Paul M. Horan (Ireland, 2017)
Prod. Dawn Mac Allister — 15'35"
with Francis Magee, Phelim Drew, Glynis Casson
In a small Irish town where secrets are rare, a local man goes to church to confess his.
CAMLO
David Moody (Northern Ireland, 2018)
Prod. Emma Mullen-Connolly — 12'45"
with David Covaciu, Corey McKinley, Diona Doherty
A young Roma boy, born and raised in Belfast, attempts to find his footing in a city that does not fully accept him.
CLEAN – World Premiere
Garry Cooper (Ireland, 2018)
Prod. Simone Kirby — 4'54"
with Fergal McElherron
An everyday scenario. Two people sitting together, in an ordinary place, getting on with their unremarkable, mundane tasks. But sometimes life is not so ordinary.
DON'T BE AFRAID
Mark McCauley (Northern Ireland, 2018)
Prod. Pearse Moore — 13'00"
with Julie Addy, Shannon Wilkinson, Michelle Lake, Andy Porter, James Lecky, John Mulkeen
A young girl suddenly collapses and dies in the middle of Foyle Street in Derry. On rushing to her aid a young Detective on her first day as a CID officer immediately recognises the girl, Rosalind, and begins her own personal journey of investigation, discovery and revelation.
HOLD THE LINE
Karen Killen & Laura O' Shea (Ireland, 2018)
Prod. Laura O' Shea — 11'57"
with Laura O' Shea, Lesa Thurman Russell, Tony Doyle
Em works in a call centre. She faces a day that's more difficult than the usual 'customer care queries' and is on the brink. That's until: she picks up the phone to Patsy.
LEAP OF FAITH
Mark Smyth (Ireland, 2017)
Prod. Jonathan Farrelly — 14'10"
with Leah Egan, Aron Hegarty, Ava Rose Farrelly, Marian Theresa Farrelly, Grace Margaret Farrelly, Michelle Lucy, Robert Harrington, Emmet Kelly
Kelly lives a lonely life in a busy city – unfulfilled and longing for more. When new neighbour Johnny moves into the adjacent building, he captivates Kelly.
LOW TIDE
Ian Hunt Duffy (Ireland, 2018)
Prod. Simon Doyle — 11'30"
with Luke Lally, Steve Wall
A boy is excited about heading out to sea on a father-son fishing trip, but his father may have more sinister intentions.
NO PLACE
Laura Kavanagh (Ireland, 2018)
Prod. Laura Kavanagh, Barry Ward — 7'20"
with Michelle McMahon, Skye O'Sullivan-Whiting, Jude O'Sullivan-Whiting, Callie Cooke.
Angela and her young kids find themselves on the verge of homelessness. Angela struggles to look after her family and maintain a sense of normality. An increasingly desperate situation leads her to commit an uncharacteristic act and places the family's future in jeopardy.
THE OBSERVER EFFECT
Garret Walsh (Ireland, 2017)
Prod. Garret Walsh, Kathy Horgan — 18'57"
with Vanessa Emme, Patrick O'Brien, Brendan Sheehan
A woman is haunted by a dark watcher obsessed with thoughts of her vicious murder but brutal events unfold to reveal a secret that will change her life forever.
UNDER GROWTH
Evin O'Neill (Ireland, 2018)
Prod. Jamie O'Rourke — 11'35"
with Stephen Jones, Soraya Abbas, Fiona Lucia McGarry, Dmitry Vinokurov
When Hayley visits her dad for the first time since her mum dumped him, he's too hung-up and hungover to handle her imaginative games and tells her to go play outside.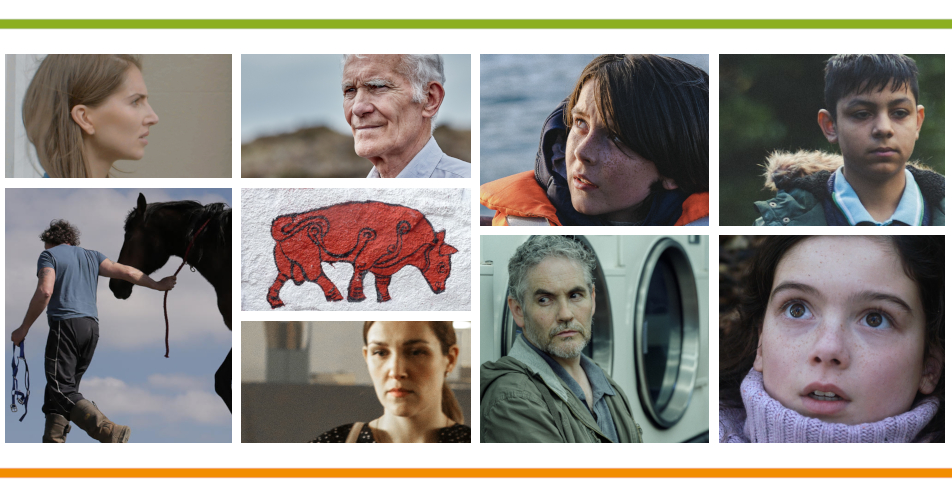 DOCUMENTARY
INHALE
Sean Mullan (Northern Ireland, 2017)
Prod. Chris Martin — 15'56"
Through horses, a man feels an irrepressible duty to move in harmony with his pain. A film exploring the infinite momentum of life via an energy never destroyed, only transformed.
MOTHER & BABY
Mia Mullarkey (Ireland, 2017)
Prod. Alice McDowell — 18'16"
For decades, Catholic Ireland locked its children into institutions if they were conceived out of wedlock; punishment for their sinning mothers. Revealing the children's perspectives and including powerful archive, this documentary offers a painful yet cathartic insight into the cruel business of Mother & Baby Homes.
PIGEONS OF DISCONTENT
Paddy Cahill (Ireland, 2018)
Prod. Paddy Cahill — 8'22"
In the otherwise tranquil Dublin neighbourhood of Stoneybatter, one local quirk has divided neighbours. The Pigeons. This short documentary looks at the local Pigeon population, while we hear some impassioned opinions from some of the neighbourhoods residents.
RECOVERY
Síofra Quinn Gates (Ireland, 2018)
Prod. Renate Canga — 8'13"
A short documentary which highlights three women's journey of recovery from sexual assault.
THE SWIMMER
Thomas Beug (Ireland, 2017)
Prod. Jessica Bermingham — 11'31"
Stephen Redmond from West Cork was the first person ever to complete the world famous 'Ocean's Seven' challenge, consisting of seven long-distance channel swims.
OUT OF COMPETITION
BOG GRAFFITI / GRAFFITI SA bPORTACH – World Premiere
Bob Quinn (Ireland, 2019)
Prod. Bob Quinn — 13'00"
To paint images on granite rocks in the wet and windy landscape of Conamara would seem to be a folly. Foolishness also to plant saplings on the same bogscape – it is four thousand years since the place was fully clothed in trees. The film notes the passing beauty of a tiny planet before we destroy it.
DISTANCE
Sharon Whooley (Ireland, 2018)
Prod. Harvest Films — 13'30"
Distance looks at multiple dimensions of time in a specific place, Glenbride in Co. Wicklow, from three distinct perspectives: the memory of a mountain, the memory of a house, and the tangled forces of human memory.