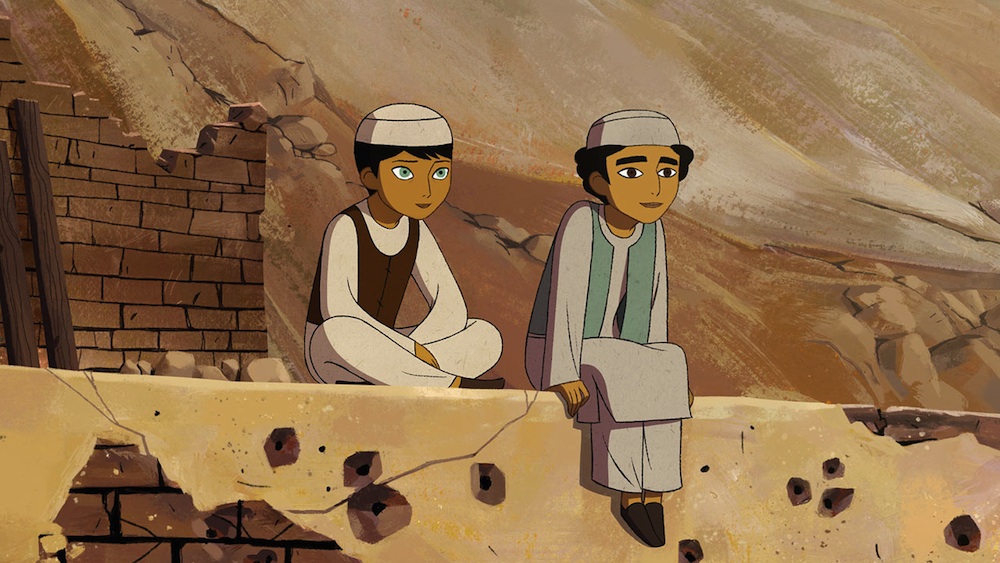 Ireland, Luxembourg, Canada, 2017
Director: Nora Twomey; writer: Anita Doron, from the novel by Deborah Ellis; editing: Darragh Byrne; music: Jeff Danna, Mychael Danna; art directors: Reza Riahi, Ciaran Duffy ; producers: Paul Young, Tomm Moore, Andrew Rosen, Tony Leo, Stephan Roelants; executive producer: Angelina Jolie; production companies: Cartoon Saloon, Melusine Productions, Aircraft Pictures; running time: 88'
Cast: Saara Chaudry, Laara Sadiq, Shaista Latif, Liza Hamidi, Kawa Ada, Ali Badshah, Noorin Gulamgaus.
Synopsis
Based on the best-selling children's novel by Deborah Ellis, The Breadwinner tells the story of 11year old Parvana who gives up her identity to provide for her family and try to save her father's life. Parvana's father Nurullah had told stories about history and imagination to Parvana as she helped him in the marketplace of Taliban controlled Kabul in the year 2001. When he is arrested Parvana finds the courage to look for him when everyone else had given up hope. She becomes a storyteller, remembering a brother she has once known.
Director
As the Co-founder and Creative Director of Cartoon Saloon, Nora Twomey oversees the development of the company's slate of productions including Puffin Rock, the pre-school series narrated by Chris O'Dowd and acquired by Netflix. Nora directed the multi-award winning short films From Darkness and Cúilín Dualach [Backwards Boy]. Nora was Co-Director of Cartoon Saloon's Oscar® nominated animated feature The Secret Of Kells (2009) and Head of Story on their Oscar® nominated Song Of The Sea (2014). The Breadwinner which she directed, has been nominated for best animated feature film at the 2018 Academy Award.
Trailer