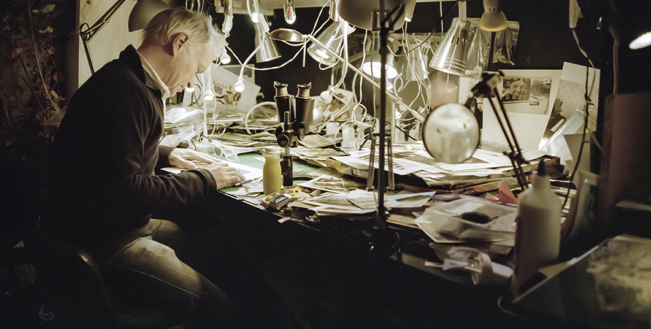 A film portrait that observes Irish artist Séan Hillen as he creates a beautiful new photomontage and shares thoughts about his work and recent personal discovery: Seán Hillen, Merging Views is a short documentary film which will screen in competition at the 10th Irish Film Festa (March 30th – April 2nd, Rome).
We spoke to the director Paddy Cahill.
Why did you choose to make a film about Seán Hillen?
I've been a long time admirer of Seán Hillen's work but it was last year, as I visited him at his home to buy one of his prints as a present, that I knew I wanted to make the film. I wrote to Seán right after asking if I could make a short documentary about him and his work. Seán has an amazing backstory, which should be told in another documentary, but I was really fascinated by his home/studio where he creates his amazing work.
The film is set in a small room: how did you work in terms of frame composition and editing?
When we filmed it was just myself and Basil Al Rawi, our director of photography, in the house with Seán. It was very important to me that we would be a tiny crew, although not much more would have fit in the room anyway! One rule I tried to keep was that Seán would only talk or answer questions while he was making work. That way it would be less like a traditional documentary interview. I thought that watching Seán work while he spoke would be more interesting to the viewer. This also gave Basil the freedom to get right up to Seán's shoulder and compose some really beautiful cinematography.
And how long did the shooting take?
Along with producer Tal Green we were planning the filming for quite a while but the actual filming was over the course of one night only. I wanted the audience to have the same feeling we had when we filmed as if they just dropped in one night, to this unusual house on a normal looking terrace street in Dublin and got to watch Seán create one of his works.