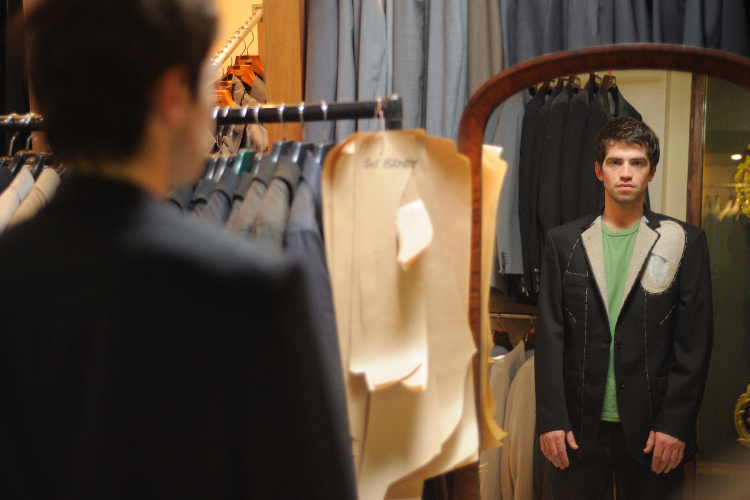 Ruth Meehan is the director and scriptwriter of The Measure of a Man, one of the short films in competition at Irish Film Festa 2015.
Jay Brady (Andrew Simpson, who played Cate Blanchett's teenage-lover in Notes on a Scandal) is a young man who struggles to come to terms with the death of his father as he gets fitted for his first suit made by a tailor (Ronan Wilmot).
Ruth spoke about the cathartic meaning of the film, inspired by a true story.
How was the script developed?
I developed the script with my brother Kenneth after our friend Gary Henderson shared a story with us. Gary had recently lost his father and told us of getting a suit made by his father's tailor. It had been a cathartic experience which had made him feel closer to his father.
This little film was a real gift, the rare kind that takes you by the hand and shows you where to go. It is and was very personal, cathartic and healing for us all and remains one of my dearest and most cherished experiences during a very dark period of time.
How did you cast Andrew Simpson and Ronan Wilmot?
At the time I was working with producer Tony Deegan on another project and he had just finished working with Andrew Simpson and told us how brilliant he was. Andrew had just been cast in a big BBC show, The Life and Adventures of Nick Nickleby, but the story resonated with him. He had also recently lost a close friend and we were really lucky that he made the time to be in the film.
Ronan Wilmot was another suggestion by a friend. He had the perfect sensibility for our tailor and was terrific.
Where was the The Measure of a Man shot?
Louis and Adrian Copeland are the foremost tailors in Dublin, and we were incredibly fortunate that they opened their doors to us. Their alterations room had been recently refurbished, but they introduced us to Denis Darcy, who was just about to retire, and whose studio was a designer's dream. Denis had a very tight deadline on the day that we were filming with him, so he kept working around us. Sometimes the close-ups of hands trimming fabric are his, although even we can't tell which ones anymore!

Special thanks to the producer Tamsin Lyons