The festival will feature a competitive section fully dedicated to short films this year as well. Ten short films in various genres and of various length will take part in the competition.
The jury assessing the short films will include film critics Boris Sollazzo and Daniela Catelli, script analyst Matteo D'Arienzo and Leonardo Paulillo, a lawyer specialized in IP and copyrights.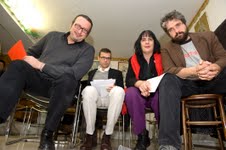 During the event a short will be screened before every film,  following last year's successful display. The winner will be announced on the Festival's closing evening. The director of the best short film will be awarded with a week end in Rome offered by the hotel  Romanico Palace, sponsor  of  IRISHFILMFESTA.
The audience will also be able to choose their favourite short after the screening of all competing shorts, which will take place on Friday 2nd of December at 5.30 p.m.