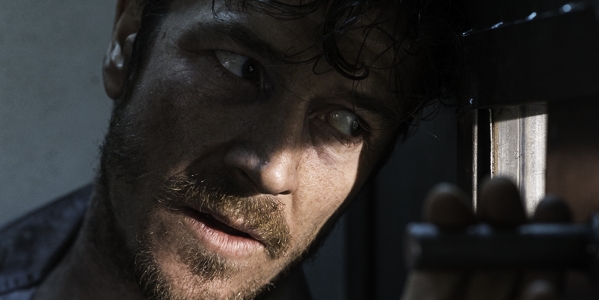 Andy and Ryan Tohill are the directors of Insulin, one of the live action short films in competition at Irish Film Festa 2016.
Insulin's screenplay is written by Stephen Fingleton, the director and screenwriter of post-apocalyptic-drama feature film The Survivalist which is also going to screen at Irish Film Festa. Insulin, The Survivalist and another short film, Awaydays by Michael Lennox (Boogaloo & Graham), are all set in the same dark, violent dystopian world.
Insulin tells the story of a man, holed up in a run down pharmacy, helping his diabetic wife to survive on scarce supplies of insulin, and trading medicine for food from the outside world. The film stars Barry Ward (Jimmy's Hall), Tara Lynne O'Neill, Ciaran Flynn and Sophie Harkness.
Insulin is part of a bigger project which includes The Survivalist and Awaydays: can you tell us something more about this fictional world created by Stephen Fingleton?
Stephen Fingleton's Survivalist world is not just about the collapse of society but natures' power to regain control over the decaying, man made world.
In our film Insulin we wanted to approach his Survivalist vision from another perspective, to remove nature from the film. Instead, telling a story in a very different environment; in an urban, oppressive interior. The bleakness of the outside world is never seen and the characters cling on to a doomed hope of survival from the inside of their depleted pharmacy.
How did you work with the actors on this emotionally challenging story?
The film was shot in two days so we didn't have a lot of rehearsal time, but I think Stephen's script was brilliantly bleak and simple and that the stakes for each character jumped off the page. All the actors knew the film is about survival at any cost, so it was a matter of getting them into that head space. The character Trader remained for the majority of the shoot on the other side of the door, so he was always removed from the other actors in that sense. That distance and lack of familiarity was important for their performances, as the film hinges on whether to trust a stranger or not.
Where was the film shot?
There was a lot of set design needed to convince the audience of a decaying society, that all had to be obvious from the interior of one or two rooms, so we were really looking for four walls an a ceiling to build a set. It had to be somewhere we could do a lot of design without fear of destroying a place, so gaining access to a pharmacy and trashing it was out. Then we thought of an old bakery which had been vacant for a decade or so across the street from our family home in Belfast, and that's were we ended up shooting. There was a strange nostalgia filming in our own childhood neighbourhood, the same place were we grew up making films with our friends.