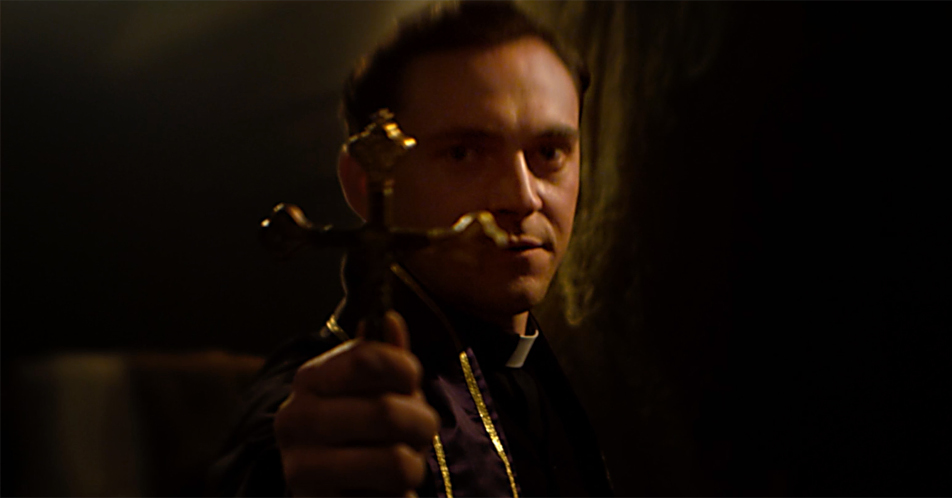 A young priest is sent to a remote island off the Irish coast to help protect an estranged fishing community from dark supernatural forces, but nothing is as it seems: Blight is a horror short film in competition at the 10th Irish Film Festa (March 30th – April 2nd, Rome).
We spoke to the director Brian Deane, whose Volkswagen Joe, starring Stuart Graham, was awarded best short at Irish Film Festa 2014.
Why did you choose, along with screenwriter Matthew Roche, to set your story in remote time and place? And where was the film shot?
Myself and Matt loved the idea of setting the film in a remote timeless piece of Ireland, where superstion and fear of the unknown were rife. We also felt this secluded location would alienate and isolate Fr Carey but also allow all of the horrendous acts that took place on the island to be swept away at the end of the film. As Blight was going to be a vehicle for social commentary on Ireland, it made perfect sense to set it on a small isolated island. We shot Blight on location in Lough Dan in the Wicklow mountains, and we shot our interiors on a purpose built set in Killruddery House in Wicklow.
As for the genre, did you have any literary or cinematographic horror models in mind?
Stylistically we always wanted Blight to be a throw back to the multi-layered and stylish horrors of the 60's and 70's with Rosemary's Baby, The Exorcist and Michael Haneke's more recent The White Ribbon as strong visual references.
I certainly felt the horror genre had become oversaturated with found footage style films with little density or thought going into what was going on below the surface. Blight was a way to rail against current horror trends and make a smart film that looked and felt like it was made decades ago. To capture this style and feeling with Blight we have much of our action progress in carefully framed wide shots, with minimal camera moves; close ups are never manipulative and are used scarcely, and lighting is top down to give us a more old fashioned feel and look. Our one modern embellishment was the use of a lensbaby, which is an adjustable tilt, and shift lens, which we used for the demon's point of view. Very much thanks to our incredibly talented and patient director of photography Russell Gleeson Blight looks and feels like it could have been shot in exactly the same way on film 40 years ago.
Blight's horror seems to be rooted not only in supernatural forces but also in family ties and religious power. How did you work to suggest this ambiguity, especially in terms of acting?
What I love most about horror, besides terrifying people, is that it's a genre which at its best is always built on layers of meaning. Sure, on the surface it's about thrills and spills, but underneath it's alway been a powerful tool for social commentary with themes like homosexuality in the vampier sub genre, anti Vietnam and class war in Texas Chainsaw Massacre or The Mist with its post 9/11 paranoia and rhetoric.
With Blight we wanted to explore and comment on the intrinsic link between church and Irish society in Ireland and how that link would lead to the horrors and scandals that would beset Ireland and the catholic church in the following century. In what other country could a stranger walk into a house and less than 24 hours later leave with somebodie's child with so few questions being asked? Irish families and the church were complicit in covering up everything from incest, child abuse, rape and mental illness, brushing Irelands dirty secrets under the rug into the forced labour camps that were the Magdelane laundries and the horrific industrial schools.
The church is almost absent from the film physically with its emissaries arriving too late to really affect the action, but it's the society it helped meld and the family unit it attempts to protect at all costs that is subjected to the harshest of examinations and cruelest of punishments.
We were blessed with an array of wonderful acting talent on Blight that really was at the heart of its success. All the performances were built through long and in depth discussion with the actors about characters motivations and fears, beautifully expressed in George Blagden's enigmatic and intriguing Fr Carey and Alicia Gerrard's monstrous and terrifying depiction of a reptilian inspired demon, to her heart rendering transformation into a scared child looking for comfort from a mother that had failed her so badly.
Our themes of parental and societal abuse and neglect are really hammered home by the deft performances of Maebh's parents Joe Hanley and Marie Ruane, where the guilt, conflict and fear are painted so clearly on their faces as they are tortured by the incestuous pregnancy they have allowed to take place within their walls thus letting the cruelest of vengeful monsters reek havoc with their lives.